Monday September 5, 2022
Greetings from Monterey, where Colin Ritchie and I have just returned from a meal on Fisherman's Wharf, having arrived here early afternoon and visited Cannery Row while we waited for our hotel room. This followed a 14-hour flight, delayed by 2 hours 15 mins.
Frankly, Melbourne airport is chaos. Someone tried to take my bag after it went through the scanner – the weird thing was that his actually bag looked nothing at all like mine. Then my shoulder bag with passport and money as well as my jacket went missing only to turn up on a table in the middle of the security hall with no explanation. The scanner broke down, there were not enough staff members to deal with the problem and it looked a mess. Luckily, we were very early but it still took an hour to get through security and immigration and reach the gate which seems like a kilometre away tucked out at the very back of the airport almost as an afterthought. Of course you have to walk through the Duty Free shop area before you can get anywhere. Tullamarine is not my favourite place.
On the plane we were sitting in economy section near Harry Mackay and another possible Carlton player. I suggested to Harry that he played well enough this year that the club should have upgraded him to business! He admitted that it was a bit of a squeeze. (Just like the salary cap, I wondered). He spent a lot of time patiently explain the finer points of AFL to the Sri Lankan lady sitting next to him. Harry, all 202cm of him, seems like a very nice young fellow. I was going to tell him that I am thinking of seeking therapy because I found myself barracking for Carlton and Collingwod in recent weeks……but I think that is better left unsaid.
Either I have lost a little weight or they have stretched the legroom in economy because it was reasonably comfortable….. and I use the word comfortable in its broadest sense. I am pleased to say that the food on United is marginally better than when I last travelled on the airline three years ago. Braised chicken and potatoes for lunch. Ok if you add pepper. Chicken lettuce sandwich for supper. Omelette, tasteless sausage, baked beans (hard to muck them up) and what appeared to be spinach for breakfast. Result: no lasting ill effects so far. This shows you how bad the food used to be (unless you flew Business which I had to do last time because of a hip operation, so it was hard to go back to reality but was at least $5000 cheaper). By the way, the coffee remains unarguably terrible and amongst the worst I have ever tasted. Films watched: Moonfall (silly but spectacular and why do so many scifi films copy scenes from 2001?). A bit of Dog, which I thought was going to be about a trip down the Pacific Coast Highway (PCH to we dudes) but wasn't really. Docos: Dylan at Newport Folk Festival. Say no more. Music: Very he Blues playlist is limited but includes James Brown and The JBs 'Like it Is Like It Was (The Blues)' which is really great. But I had my own music on my iPad and phone. I always take time on a trip to listen to Wayne Shorter's Speak No Evil (1964), the album that inspired Don Was.
I even managed to get a few hours sleep before we landed in San Francisco at 0845. Disembarked, cleared immigration, collected back and cleared customs and got to the car rental centre by AirTrain in 45 minutes! Then had to line up for 45 minutes to get car from Thrifty which is cheap and, therefore, had a lot of people waiting and only two agents for most off the time!
We have a Nissan Rogue, which is a mid-size SUV, and headed out around 10.30, taking another 2 1/2 hours to get to Monterey driving 'straight down the guts' (to use a footy expression) along the 101 and turning right before Salinas (where we will stop off on Wednesday). The traffic was heavy but at least moving slowly. The most noticeable things was the number of Teslas…..you will barely go a minute without seeing at least one and sometimes two or three in a row. No wonder stock is hard to get in Australia. Then there are the Volts,….and the EV Mustang spotted at our hotel. The electric car revolution is already here in California folks.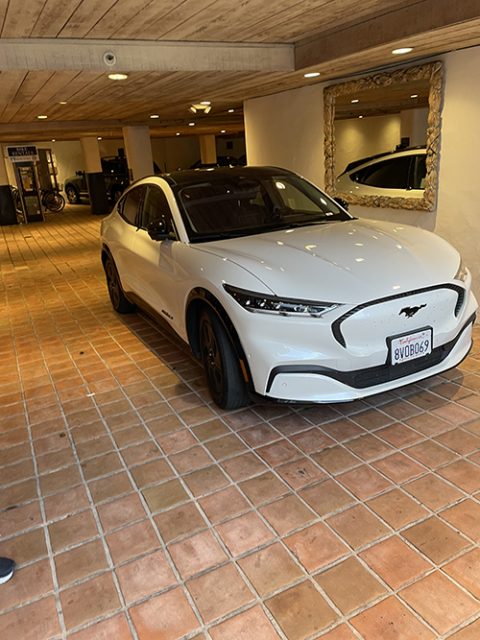 The outside temperature was hitting 111F (44C) but as we drove across to Monterey it dropped to 80F (27C)! The drive is through the 'vegetable garden' of California, so many crops of all different varieties although you can see the effects of the drought. (It's as dry as a dead dingo's etc'). Someone in the car rental lineup told me the crops were artichokes but I wouldn't know one if I fell over it so I am hardly going to recognise an artichoke from a distance in a speeding car. I'll take his word for it! He also warned me about the crime, open drug use and homelessness in San Francisco, which is exactly what my son Robert said the other day too. Surely, it cannot be worse than last time I was here? We'll find out on Wednesday.
Checked in at hotel but had to wait 3 hours for the room. So we caught the free shuttle bus to Cannery Row. Monterey has not changed much since I was last here three years ago. I usually stay at the International Hostel which was really good value and where you met a lot of interesting people but it closed down during Covid and is being reopened next year. Today was a Labor Day holiday and the place was packed with families visiting the Aquarium and gift stores. Went to Starbucks for iced coffee and free wifi. Mistake. Many small crying children. Last time it was mainly quiet student types. Different time of year. Walked along Cannery Row and found the Steinbeck related workers houses……strangely we were the only ones looking at them.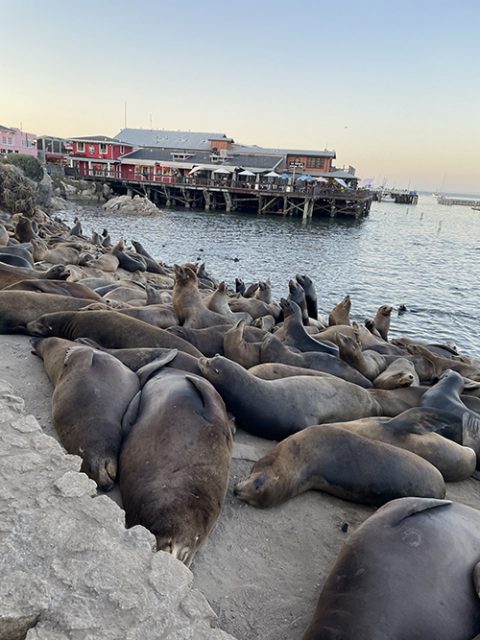 Back to the hotel for another line up for our key…only 30 minutes this time with only one person on staff to handle a growing line of about 15 or so people. Is the pandemic still hitting businesses so hard here? Hardly anyone is wearing a mask. Shower, change, slight snooze and then a walk down to Fisherman's Wharf to be confronted by hundreds of barking (and malodorous) seals lying on the rocks and swimming around. I am not sure why they are barking because no one feeds them. Or maybe that is why!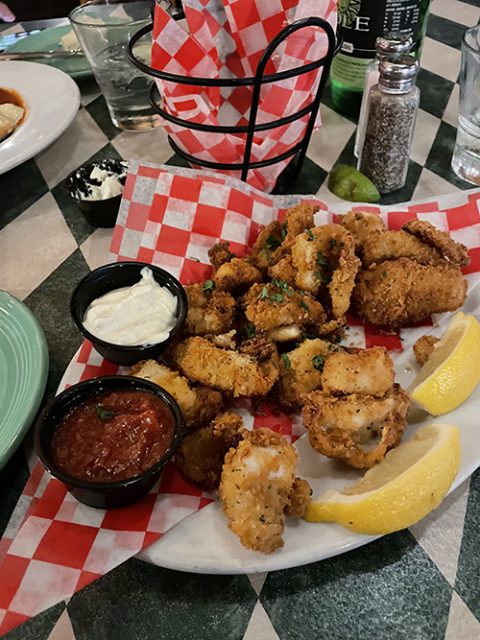 We ate at Abilonetti, one of the numerous seafood places, not that Colin can eat it (he had gnocchi). US$42 sounds okay for a cup of clam chowder, bread, big plated of calamari, mineral water and the taxes and tips until you connect it to the AUS$.
Back in the room by 10.00pm and it is nearly time to bid farewell to our first day. It is good to be travelling again.
Tomorrow it is down to Big Sur where Jack Kerouac once lived in a cabin in the woods and wrote the novel Big Sur. Also a visit to the Henry Miller Library.