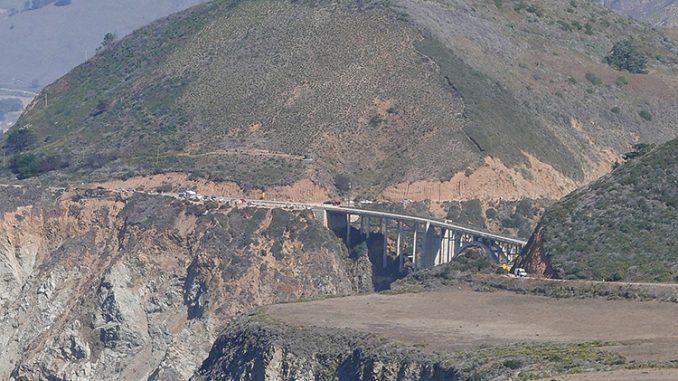 Tuesday September 6, 2022
The first time I saw the Bixby Bridge on the Pacific Coast Highway was in the 1969 TV series, Then Came Bronson, starring Michael Parks. Jim Bronson, a disillusioned newspaper reporter in San Francisco decides to quit his job and ride the Harley-Davidson bequeathed to him by a friend who unexpectedly committed suicide. The opening scene features Jim pulling up at a set of lights next to an obviously hot and stressed car driver who looks at him through the open window.
The conversation goes: Driver: Taking a trip? / Bronson: What's that? / Driver: Taking a trip? / Bronson: 'Yeah' / Driver: Where to? Bronson: Oh, I don't know wherever I end up I guess. Driver: Well, I wish I was you! Bronson: Really? Driver: Yeah. Bronson: Well, hang in there.
What follows are scenes of Bronson heading down the highway, along a beach and then across a fog-shrouded Bixby Creek Bridge (built during the early 1930s). Those scenes struck a chord with a young Melbourne student (me) that would see him 36 years or so later ride a motorcycle down that same highway and across that famed bridge spanning the oceanside canyon. I am not sure how many times I have been over the bridge since (more recently by car) but it never ceases to thrill.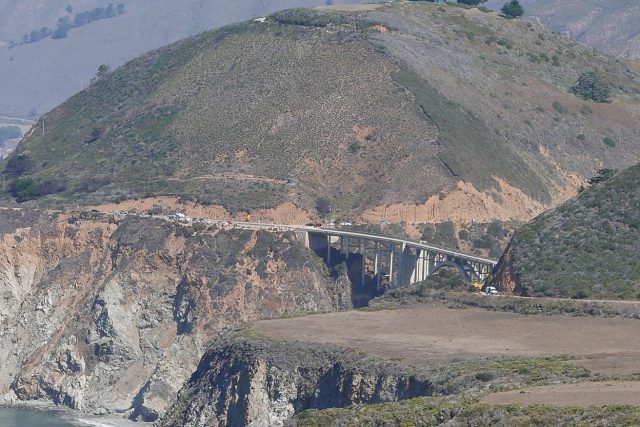 When I first discovered the bridge I had no idea that poet Lawrence Ferlinghetti had a cabin in the canyon below and that he invited Jack Kerouac to stay there on a retreat which was ultimately successful.
Then I discovered Henry Miller's role in the history of Big Sur and that is why Colin and I headed down there this morning – to visit the Henry Miller Museum. It was a magnificent drive, punctuated by many photo stops and rambling conversations.
I recalled the 1971 film Celebration at Big Sur about the 1969 festival featuring Joan Baez, Crosby, Stills, Nash and Young, Joan Baez, Joni Mitchell, John Sebastian, Mimi Farina and others. I think somewhere int he Cellar of Sound I still have the soundtrack album. (There was also more recently available the film and soundtrack of the 1970 festival which featured Joan Baez, Linda Rondstadt, The Beach Boys, Merry Clayton, Country Joe and Kris Kristofferson). All this must have been inspired by the 1967 Monterey Pop Festival (more on this later).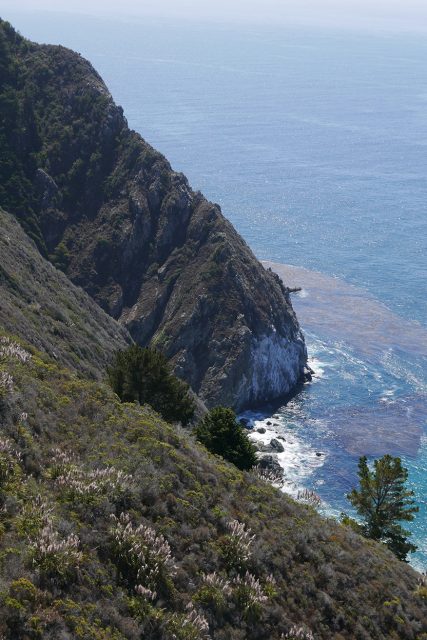 Perhaps after numerous trips to the USA I might have remembered that many museums are not open on Tuesdays. We didn't even think to look it up. The Miller Library was also shut, which I should have known from having been there several times previously. Was it brain fog operating? A quick google revealed that the Steinbeck centre in Salinas was also closed. This means we have to scrap Miller in favour of Steinbeck tomorrow. This is not a problem.
We stopped at the River Inn in Big Sur for lunch and then decided to visit the Pebble Beach Golf Course. The road clings perilously to the cliffs around Big Sur at some points and we passed what appeared to be a head on collision which left two vehicles dangling off the road and badly damaged. The drive back was carefully done. I am not sure what is more spectacular the Pacific Coast Highway or the Great Ocean Road. I certainly think they are on a par. One of the first things I will do when I get back home is to drive the GOR again.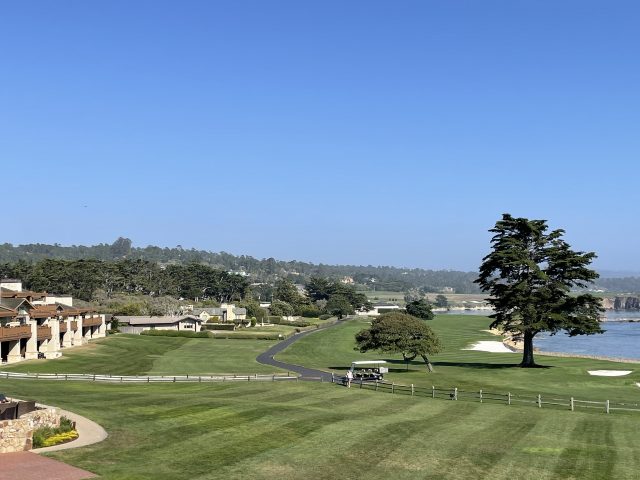 Driving through Carmel, where Clint Eastwood lives, shows another side of American life: the wealthy side. The Pebble Beach course is in a gated area that also has a scenic drive. I reminded the Guard at the Gate House that last time he wouldn't let me through because I was on a motorcycle. 'That's right,' he said taking our $11,25 entry fee. The course is quite spectacular and they even let us into the club house to have a look. It was comforting to know that everyone we saw there was wealthier than us.
Dinner this evening was al fresco at an Italian restaurant, Paluci's, on Fisherman's Wharf, serenaded by the seals. Fettucine with clams for me. Ravioli for Colin.
The weather is cooler here on the coast. One of the inland towns reported 116F today – a record. Tomorrow we head to Salinas and the Steinbeck Center then back into to San Francisco for one more night there before Nashville.
Plans for tomorrow