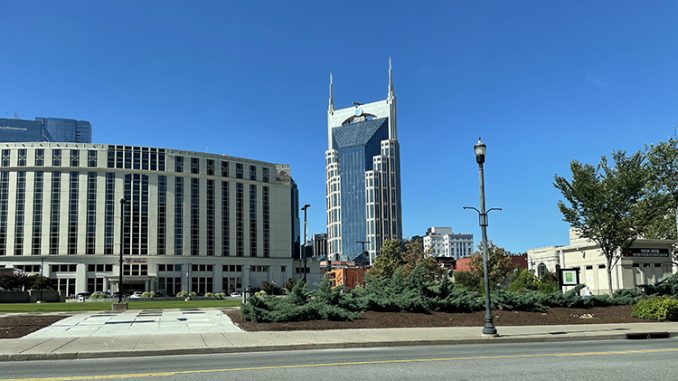 Monday September 12: Day #8
It's an easy two hour plus drive from Chattanooga to Nashville. We have a rental car that is as cheap to rent for a week as it is for 4 days. Does that mean we are getting 3 free days? I don't think so. We met up with Anne McCue for lunch at Dose in East Nashville. Anne is co-hosting the radio show with me on Friday.
In the afternoon I went to Anne's place to pre-record some segments for her radio program, including an interview we did together with Jeff 'Skunk' Baxter.
For dinner we visited the Peg Leg Porker, which as the name suggests is a BBQ place. Okay, I know I am on a diet but this is the only time we will visit it and I knew that it would be too busy later in the week during the Festival. That's my excuse for having a pulled pork sandwich!
Tuesday September 13: Day #9
Driving around Nashville this afternoon I hear myself with Anne on WXNA introducing and playing some songs from the latest Rhythms download card. That seemed a bit strange.
The music has started. This evening we went to the BMI building to see Christone Kingfish Ingram put in a powerful one-hour set not the rooftop to hundreds of visitors. Then we headed off to the Bluebird Cafe to see the Aussie contingent. Highlights were Georgia Delves (Georgia State Line) and Lachlan Bryan and Catherine Britt.
Wednesday September 14: Day #10
Huge day today. Four sessions at the Conference: Jody Stephens (Big Star) on music licensing, a Q&A with Ray benson from Asleep at the Wheel, an interview with Al Bell and Deanie Parker on Wattstax, an excellent documentary on Peter Case at BMI. Later, it was off to the Americana Honors and Awards at the Ryman and finally the Hutton Hotel, where we missed the North Mississippi Allstars Acoustic but saw Joshua Ray Walker.