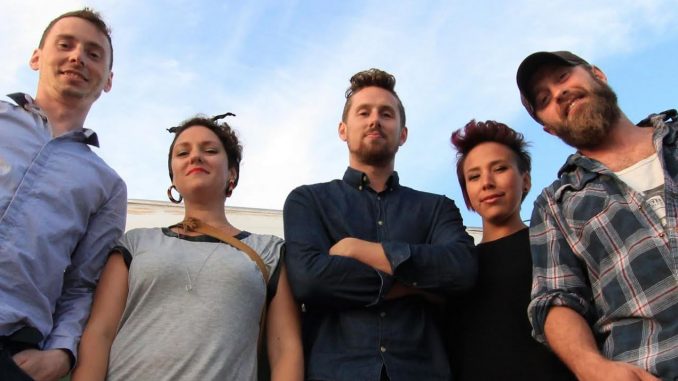 Fast rising northern stars, The Jerry Cans, create music inspired by their hometown of Iqaluit, Nunavut in Canada's frozen far north. They fuse their unique mix of Inuktitut alt-country, throat singing, and reggae with a combination of musical influences from their roots in the Arctic where, the first European explorers from Scotland and Scandinavia brought their traditional instruments including accordions, fiddles and bodhrans into the region.
In November 2016 The Jerry Cans released their third album 'Inuusiq – Life', which is all about the challenges and beauty of life in the Far North. The single from the album 'Ukiuq' ('Northern Lights') was recorded in both Inuktitut and English. Nancy Mike says, "Releasing both versions of the song is something totally new for us! Both versions give me the feeling of being in the long cold Arctic winters. Sometimes it is hard to find that light and warmth in the winter and we hope this song give you a bit of that spark."
The band perform many of their songs in Inuktitut and are passionate about preserving the language even as the north and their home community of Iqaluit evolve. They are committed to representing northerners and to challenging common misperceptions they have encountered about life in the Arctic; their music evokes the contemporary north and the spirited people that reside there. It is not only the political motives, but their rapidly developing reputation for getting elders and young people dancing, that has forced people to start noticing this high-energy group. This band will take you on a stroll through the streets of Iqaluit to share a glimpse of life in Arctic.
The Jerry Cans are a distinctly a, 'one-of-a-kind group', Nancy Mike, the only Inuk member, featured throat singer and accordionist, grew up in Pangnirtung, a hub for Inuktitut folk music. With the exception of violinist Gina Burgess, who travels between Halifax and Iqaluit, the rest of the Jerry Cans are all from Iqaluit, Nunavut's fast-changing capital, where people from all over the Arctic and the world collide. Andrew Morrison, the band's singer, main songwriter and engaging front man is a former Northern CBC Radio producer who's lived in Iqaluit almost all his life. Morrison, the band's main songwriter, has become fluent in Inuktitut. Bassist Brendan Doherty and drummer Steve Rigby met back in grade school and grew up listening to Nunavut rock bands, along with traditional performances at community cultural events. They picked up instruments and experimented with hard rock and metal before heading south for university.
They Jerry Cans have performed at festivals all across the world and were a huge hit at last year's WOMADELAIDE festival and now they are heading to Australia again in March 2017.
The Jerry Cans Tour Dates

03/03: Fly By Nite Club Fremantle
04-06/03: Nannup Music Festival, Nannup
08-09/03: Grace Emily – Fringe Festival Adelaide
10-13 & 15/03: Port Fairy Folk Festival Port Fairy
15/03: Northcote Social Club, Melbourne
16/03: Sooki Lounge, Belgrave
17-19/03: Blue Mountains Festival, Katoomba
22/03: Great Northern Hotel, Byron Bay
23/03: Sol Bar, Maroochydore
24/03: Black Bear Lodge, Brisbane
25/03: The Darwin Railway Sports + Social Club Darwin