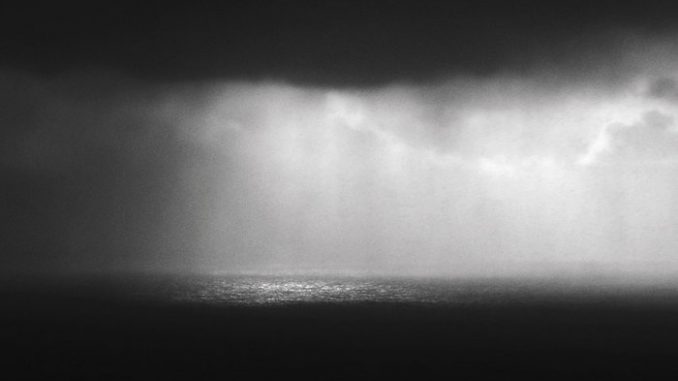 This World – Mike Nock, Hamish Stuart, Julien Wilson, Jonathan Zwartz (Lionsharecords)
By Des Cowley
This album brings together four luminaries of the Australian jazz scene, all leaders in their own right. The simple fact of their names appearing in alphabetical order across the cover – which features a dark and moody photograph by Polly Ambermoon recalling Manfed Eicher's ECM album covers – says much about the approach here: egos have been checked at the door, and the quartet's combined artistry has been selflessly given over in service to this music.
The album comprises nine original compositions, most around the six to eight-minute mark, with contributions by all members of the quartet.
What's immediately striking is the sense of calm and spaciousness found at the heart of this music. There are no fireworks on display, nothing is hurried or rushed. Instead, there is an intense focus on mood, on emotion, with each instrumental voice striving for an intelligent and restrained clarity.
Pianist Mike Nock's 'Old's Cool', with its gentle chord progressions, ushers in the album, its delicate piano and sax phrasings prodded along by Jonathan Zwartz's muscular bass-lines. Julien Wilson's 'Riverside', with its jaunty rhythms and second-line drumming, lurches with an almost bluesy swagger.
Drummer Hamish Stuart's sole compositional contribution, 'Any Heart', is a minimalist tour de force, a mood-piece constructed from repetitive bass, cascading and tinkling piano, and the near-breath of Wilson's tenor sax.
On Nock's 'Aftermath', Wilson floats freely above the melody, weaving magic by stealth. Jonathan Zwartz delivers two of the album's genuine highlights with his compositions 'And in the Night Comes Rain' and 'Home'. The former begins with Debussy-like piano before finding its deep and melancholic groove. 'Home' – which feels like an instant classic – is built from the simplest of vamps: Wilson's tenor sounds plaintive and mournful, while Nock's delicate phrasing, ever-so fractionally delayed, arouses a simultaneous mix of joy and sadness.
Overall, This World seems intent on evoking that very complexity – the delight and the ache – of living life in this world. With its laconic tempos and breezy tranquillity, it joins several other recent albums, such as Sam Anning's Across a Field as Vast as One and Jonathan's Zwartz's The Remembering and Forgetting of Air, that point to a distinctly Australian approach to jazz. In striving for mood over pyrotechnics, these musicians have constructed a sound world out of simple melodies, clean lines, and subtle arrangements.
In a nutshell, This World is a sublime album performed by a quartet of stellar improvisers. Enough said.