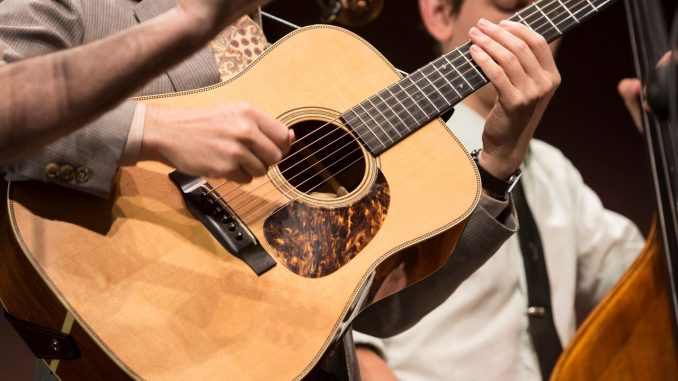 Registrations open today for Adelaide Festival Centre's Guitars in Bars program, a key component of the upcoming 2018 Adelaide Guitar Festival.
Guitars in Bars, which runs from 13 – 29 July, shines a light on Adelaide's vibrant live music scene, connecting local musicians with a variety of venues across the State, resulting in hundreds of gigs in pubs, clubs and other venues. This year, three acts from the Guitars in Bars program will be chosen to appear in the 2018 Adelaide Guitar Festival which runs 9 – 12 August.
Several performers from last year's Guitars in Bars have also been handpicked to perform in this year's Adelaide Guitar Festival, including local singer/songwriter Kelly Menhennett. Kelly is a national award-winning performer of the soul/roots/alt-country variety and she is living proof of the value of Guitars in Bars.
Last year, Guitars in Bars included more than 200 gigs, featuring more than 500 artists in 62 venues across the State. This year, the program is expanding its focus into regional South Australia, working with regional councils to encourage local musicians to take their shows on tour to country areas. "In this way we are spreading great music to communities that wouldn't normally be able to attend gigs regularly," says Slava.
Adelaide is the first and only UNESCO City of Music in Australia. As the leading winter guitar music event in Adelaide, Guitars In Bars is proud to celebrate and contribute to this status as a UNESCO City of Music.
Other Adelaide Guitar Festival initiatives this year include Resonance, where world-class musicians will perform in hospitals, community centres and homes for older people across South Australia from 28 July – 10 August.
And Guitar Festival Winter School, from 16 – 20 July, will be a one-week intensive program run by some of the country's finest guitar players, covering two streams of tuition across blues and roots and classical genres, for all ages and skill levels.
Adelaide Guitar Festival is a biennial event bringing incredible artists from around the world together with some of the best Australian musicians to deliver an exciting and entertaining program of events. The festival includes performances, workshops, master classes, artist talks, panel discussions and programs for emerging musicians. Shows already on sale include Tommy Emmanuel and Friends, Guitar Festival Symphony Gala 2018, Grammy award-winning legend Albert Lee and Martha Masters & Vladimir Gorbach.
The full 2018 Adelaide Guitar Festival program will be released in May.
 To register for Guitars in Bars go to www.adelaideguitarfestival.com.au