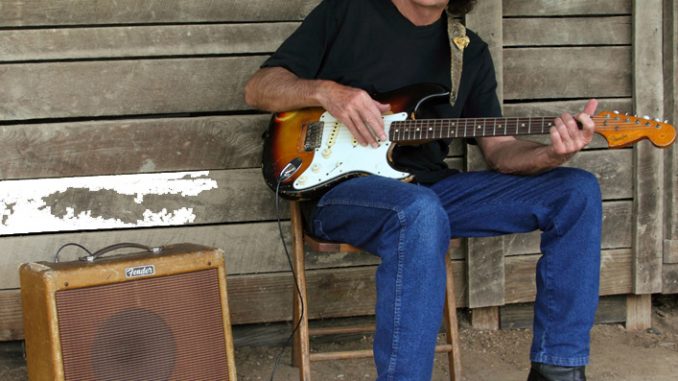 By Brian Wise.
Tony Joe White was set to tour Australia in October but had to cancel due to ill-health. However, before that happened he spoke to me from his home in Tennessee and we printed the following feature in the September/October edition of Rhythms.
Tony Joe White is back with a new album, Bad Mouthin', but you can't imagine him talking anyone down.
"I always loved Australia, love to come over there," says Tony Joe White when I catch up with him at home by phone to talk about his new album. "It kind of reminds me of my home down in Louisiana in the swamps. It is like the people if they dig you, they stay with you and they don't mind letting you know if they like it."
White is at his house in Leiper's Fork, Tennessee, just south of Nashville. He is probably staring at the barn where he relocated his home studio to record Bad Mouthin', his latest studio album and a blues one to boot, produced by his son Jody White.
The album features some classic blues covers from Lightnin' Hopkins, Charley Patton, Muddy Waters and John Lee Hooker, and more, along with some original songs, a few of which have been around for more than 50 years. For most of the album it is just White and his acoustic guitar on a sound that is as primal as the early John Lee Hooker recordings.
The title track and 'Sundown Blues' were originally recorded back in 1966 and it is hard to believe that they have been in the archives ever since. For the latest incarnations White has enlisted just a few backing musicians including his drummer Cadillac.
"Man, we did it in a studio on the Mexican border," he recalls of the first recording. "I was living in Corpus Christi, Texas, and we drove down just to see how my voice sounded on a tape, a reel-to-reel. I had 'Polk' ['Polk Salad Annie'] about halfway finished so I didn't do it, but I had 'Bad Mouthin'' and 'Sundown Blues'. So, we put those two down just to see how they sounded; just me and a drummer, and it was fun."
The songs were never released due, no doubt, to the fact that the record company person was, according to Tony Joe, "a little bit shady."
"I just kept on writing and playing the clubs and hoping something good would happen, which it did," he says. "I think 'Bad Mouthin'' was the start of me wanting to write. It had a lot of blues to it, so we decided to put it on this album that Jody and I was doing. I'm also doing Lightnin' Hopkins, John Lee, Jimmy Reed. All them people that I was doing on stage, I put them down on the tape."
White recalls that he was only 15 years old and living with his parents and six siblings in Goodwill, Louisiana, when he first heard Lightnin' Hopkins
"Up to then I just heard gospel and country music," he says, "that's all they played. My brother liked the blues, too, so he brought that album home and wanted me to listen. Boy, I'd borrow my dad's guitar and sneak up into my room at night with it, and sit up there and listen to it, and learn some of those blues licks."
White recalls how he got to play with Lightnin' Hopkins, "later on, after things happened for me with 'Polk Salad Annie' and all of that."
"He was in L.A. recording an album called L.A. Mudslide," recalls White, "and the record company called me and wanted to come out, that he wanted me to play a little guitar and harmonica on the album with him. So, man, that was like meeting Elvis for the first time. It was great. We did 13 songs without stopping. He'd go from one song to the next and I'd play along with him best I could, a little harp, a little guitar. It was fun."
Of course, Tony Joe went on to meet Elvis Presley after The King recorded 'Polk Salad Annie' and 'Rainy Night In Georgia.' Elvis arranged for White to be flown from Memphis to Las Vegas to see him in concert and perform 'Polk Salad Annie' each night.
"Every night we'd watch the show and then go backstage and sit in his dressing room," recalls White. "He had a little guitar back there and he was always saying, 'Show me a couple of blues licks. I really would like to learn a couple blues licks.' So, I showed him a few things from Lightnin' or John Lee or whoever. It was like that every night. He always treated me really cool, really good."
As for White's other early songs, he says, "we've got some good songs in the archive," and mentions that his son has found an old tape with 14 songs on it.
"They all sound like Elvis – acoustic guitar and my voice," he says, "and I had a little harmonica on it but not much. In them days on stage, and I had my hair like Elvis and I was doing a lot of his songs on stage plus the blues – John Lee and all of them. So, it was so great when they called me one day and said, 'Hey, Elvis just cut through your song, 'Polk Salad Annie', and 'Old Time's Sake.' I said, "God, who can tell where music is going to go?" Amazing."