Rhythms are lucky enough to have an exclusive album stream of Tracy McNeil & The GoodLife's new album Thieves.
Check it out here: TMN & TGL Thieves Stream
Also, have a read of Rhythms review in the latest issue of TMN & TGL.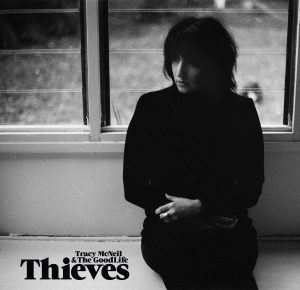 TRACY MCNEIL & THE GOODLIFE
THIEVES
(SlipRail Records)
While previous releases by Melbourne singer-songwriter Tracy McNeil heralded a notable talent, Thieves confirms that promise. Raised in Canada by musician parents, she echoes the best of their likely influencers (CSN&Y, Mamas & Papas, Linda Ronstadt). All the elements are there: catchy and original tunes, seamless vocal and instrumental harmonies, lyrics perfectly matched to the rhythms. First single 'Paradise' is instantly memorable. The GoodLife features Dan Parsons on lead guitar, Luke Sinclair (Raised By Eagles) on rhythm guitar, drummer Bree Hartley and Trent McKenzie on bass. Co-producer/engineer Shane O'Mara nails the cool 'LA dreaming' sound – smooth, driving and hypnotic in turn. Written on tour in the wake of grief, the reflective content remains uplifting. Guitars once played by McNeil's late father add their own warmth in tone and mood.
Touted by some as alt-Country meets West Coast pop/rock, Thieves qualifies as a 'classic album' just waiting to be heard. McNeil grew up listening to Fleetwood Mac and The Eagles. If either released any one of these songs today, they'd return to the top of the charts.
Chris Lambie