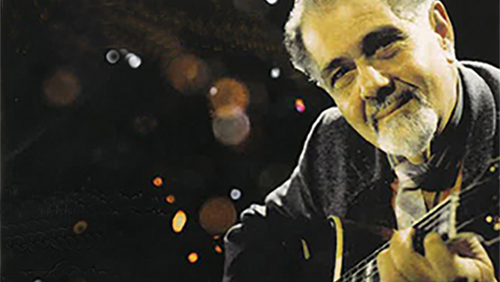 Review by Des Cowley.
VARIOUS ARTISTS: We Like Ike: 100th Birthday Tribute to Jazz Guitar Legend Ike Isaacs (Triangle 7 / The Planet Company/MGM)
While guitarist Ike Isaacs (1919-1996) is not exactly a household name, his memory remains cherished by the cognoscenti. He was a key member of the British jazz scene between the 1950s and 1970s, eventually making Sydney his home in 1981, where he taught and mentored younger guitarists.
Aside from touring with the likes of Stéphane Grappelli and British guitarist Martin Taylor, Ike could count as friends the cream of international jazz guitarists of his generation, including Wes Montgomery, Joe Pass, Jim Hall, and Barney Kessel.
Stylistically, Ike was most interested in exploring texture and melody, in particular re-interpreting the great American songbook, whether standards like 'Polka Dots and Moonbeams' and 'Stardust', or the Monk classic 'Round Midnight'. His was a gentle approach, conjuring late night cocktail bars, clinking glasses and smoky haunts.
If I was reaching for comparisons, I'd pinpoint Johnny Smith's classic album Moonlight in Vermont, recorded with Stan Getz in 1952. We Like Ike features sixteen tracks by artists paying homage to his influence, rounded out by Ike's own rendition of 'Starlight'.
While a few have been culled from previous releases, including nephew Mark Isaacs' sublime 'Bagatelle', featuring Sydney guitarist James Muller, over half the tracks are new recordings made for the album.
Standouts are the solo guitar pieces – worth the price of admission alone – by UK guitarists Martin Taylor, John Goldie and Andy Brotherton, alongside those by local guitarists Carl Orr and James Sherlock.
These laidback performances dig deep into their chosen melodies, exhibiting warmth and reverence. While 'various artist' compilations can be hit and miss affairs, this one possesses a seamless quality that clearly reflects the guiding spirit of its subject.
To coincide with its release, Grace Music/MGM have also re-issued Ike's 1992 solo guitar album Intimate interpretations as a digital-only release.