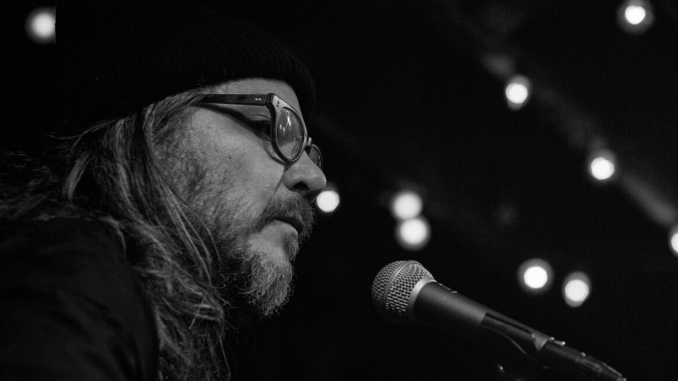 By Martin Jones.
Jeff Tweedy – Brisbane Powerhouse – Wednesday May 22, 2019
Anyone who has seen a Wilco show appreciates how much manpower, equipment, preparation and coordination is applied to make it so great. That considered, it must be extraordinarily liberating for Jeff Tweedy to step up on stage with just one unplugged acoustic guitar, no set list, and a head full of songs.
That's just what he's been doing for most of the past year, resulting in his first solo tour of Australia.
And anyone who has seen a Wilco show would be also be forgiven for being incredulous about songs like 'Heavy Metal Drummer' or 'Impossible Germany' being effectively translated via a single voice and an acoustic parlour guitar in front of two microphones. But Tweedy managed to conjure the ebullient energy of the former, and the shadowy melodiousness of the latter with ingenious arrangements.
After an opening set from Jen Cloher, who demonstrated her amazing growth in confidence as a writer and performer (the story about masquerading as Galaga champion John was a highlight and she aroused our jealousy by revealing she'd just come from recording at the Wilco loft with Liz Stringer and Mia Dyson), Jeff Tweedy took charge of the stage, launching straight into 'Via Chicago' and ploughing through twenty songs, the 90 minutes passing in a flash.
The Powerhouse being a particularly quiet theatre, the audience took some coaxing to be as vocal as Tweedy would have liked. After he pointed out that audiences usually sing along and that that usually adds to the enjoyment of the show, someone called out that there were signs in the lobby discouraging such behaviour. While the sing-alongs for 'California Stars' and new song 'Let's Go Rain' were moderately robust, the half-hearted 'woo-hoos' during 'Heavy Metal Drummer' prompted Tweedy to comment that he could now see why signs were erected to discourage audience participation.
Stand-up comedy is a critical component of Tweedy's solo shows. "I've figured out that I can actually try and get laughs on purpose. And it works out," he told me in an interview prior to the tour. "And I've gotten much more comfortable with the idea that a little bit of stand-up is okay. It's a part of it and it's entertaining and it's fun and it's probably more in my nature, I have a type of self-loathing that fits the skill set of a stand-up comedian than a singer-songwriter probably."
His sharp, agile wit and dishevelled physical appearance make for natural comedy and that can be a potent contrast to some of the more weighty lyrical matter of the songs. Tweedy made a point of writing more obviously personal lyrics for his latest album Warm (and the soon to be released Warmer) as a companion to the recent autobiography Let's Go (So We Can Get Back) and these songs, like 'Bombs Above', 'Some Birds' and 'I Know What It's Like' proved affecting in performance, even to those hearing them for the first time.
Though the setlist stretched back to Uncle Tupelo ('New Madrid' and 'Acuff-Rose') and very early Wilco ('Passenger Side') and stopped at pretty much every point in Tweedy's career, towards the end of the show he responded to requests by saying that he'd reached the point of the show where people start panicking that they're not going to hear the song they came for. Though he joked that online set requests resulted in one vote for each of every song he'd ever written, Tweedy was generous in his selection, reaching into the far corners of his catalogue as well as delivering on favourites like 'Hummingbird', 'Jesus, etc', and 'I'm the Man Who Loves You'.
We all left feeling a whole lot better about everything.