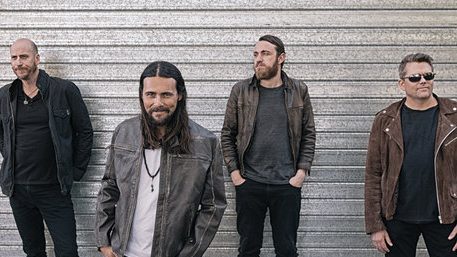 Known for their bluesy-rock swagger and proclivity for howling, bra-throwing fans, Gold Coast band, Phil Barlow and The Wolf are changing their tune a little for their new single, Love Is All I Feel, launching an East Coast tour at Night Quarter, Friday 2 December.
Rhythms is premiering the new clip Love is All I Feel. Watch now!
Trading gyrations and flirtations for good vibrations and utopian aspirations, Love Is All I Feel is a groove-laden, blues-rock-funk number encouraging you to open up and connect with your fellow humans.
"We've met so many incredible people on the road touring our latest album, The Awakening. The band felt such a general vibe of universal love that we wanted to release a song for our friends, new and old, to kind of give back and show gratitude for the support," said Barlow, singer, songwriter and guitarist.
Befittingly recorded at Love Street Studios, Love Is All I Feel will be a free download with a music video featuring the 'Howler' community, including local musicians, artists, friends and fans at a party, which Barlow said is all about celebrating, "love, connection and friendship."
After some sixty shows, the east coast is well on its way to being awakened with the band highlighting their 2016 Blues On Broadbeach appearances as most memorable. "Blues on Broadbeach went off!" said bass player, Regotron, "The Liars Bar was packed to the rafters with howling, sweaty music lovers – girls got their bras off, Phil took his shirt off. It got pretty wild."
The Love Is All I Feel tour will be a similar story to that told before, getting wild and liberated, but the little twist in this tale is "a real vibe of gratitude and giving – even more so than usual," said Barlow.
Tour Dates

Friday 11 November • Maroochydore, QLD • Solbar
Saturday 26 November • Brisbane • Destination Blues
Friday 2 December • Gold Coast, QLD • Night Quarter
Sunday 4 December • Byron Bay, Northern NSW • The Rails
Thursday 8 December • Sydney, NSW • Frankie's Pizza
Friday 9 December • Newcastle, NSW • The Stag and Hunter
Sunday 11 December • Thirroul, NSW • Beaches Hotel
Saturday 17 December • Brisbane, QLD • Sonny's House of Blues

Head to philbarlowandthewolf.com for tour updates, free song downloads and more.