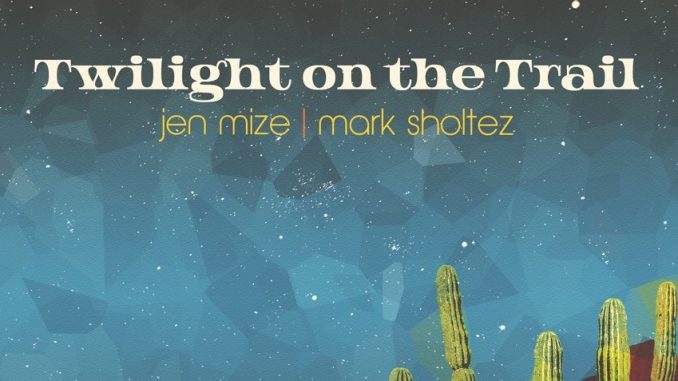 Twilight on the Trail is a beautifully rendered collection of iconic cowboy songs from the golden era of American popular music.
This collaborative work from Jen Mize and Mark Sholtez takes a fresh look at the music of the great cowboy crooners (Gene Autry, Roy Rogers, Dale Evans, Sons of the Pioneers), and like the landscape that inspired these songs, the album is rich in musical detail, yet remains wonderfully open and spacious.
On first listen, it's clear that Mize and Sholtez are the real deal. Building on their existing bodies of creative work, and drawing from their rich and diverse musical backgrounds, they bring new life and new meaning to this timeless material. From the playful to-and-fro of "Lights of Old Santa Fe", and "My Rifle, My Pony, and Me", to the understated "Wand'rin' Star", and unapologetically heartbreaking "Black Hills of Dakota", Mize and Sholtez's vocal performances are charming, honest, and personal, highlighting both their commitment and connection to these songs. As a result, Twilight on the Trail feels equally nostalgic, and unexpected.
In the true spirit of collaboration, this project also brings together some of Australia's finest country and jazz musicians, including Danny Widdicombe, Glen Hannah, Brendan Radford, John Parker and James Sherlock.