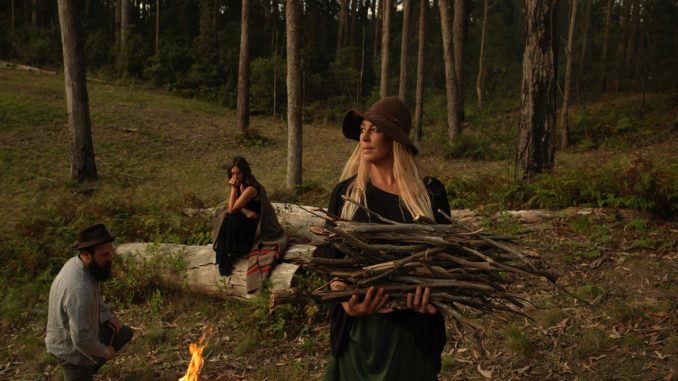 25 years on and The Waifs' fans are still as loyal as ever! Due to overwhelming demand the trio have added a 2nd Melbourne show at Hamer Hall on March 29, tickets will go on sale on Thursday February 2nd at 10am via thewaifs.com. Tickets to the Quindanning show are now sold-out, with all other shows selling fast.
'Ironbark' is the first single and title track from The Waifs seventh studio album, due in store March 3, through Jarrah Records and MGM. For 25 years fans have listened in awe to The Waifs' stories with the three voices of Vikki, Donna and Josh introducing us to characters and places that we could only dream of. Ironbark is a little different, it's a celebration and a tribute to the fans, for their involvement in their career and being the very reason the band are still playing music together 25 years on.   You can listen to 'Ironbark' here.
Ironbark is a double album, featuring 25 songs, made for their incredibly loyal and loving fan base, for those who have been there from the start, and for those who have become fans of the band along the way. The album was recorded in true Waifs style in a make-shift studio in the unfinished kitchen of Josh Cunningham's rural retreat on the NSW South Coast across two weeks.
As a gesture of thanks to their fans Ironbark is available now for pre-order at a very discounted price from their website and from iTunes and from various retail outlets for the first 25 days of release. There will also be amazing ticket and album bundles for all headline concerts available so head to thewaifs.com for details.
Jarrah Records, Rhythms & The Music Present 
AN EVENING WITH THE WAIFS 25th ANNIVERSARY AUSTRALIAN TOUR With Special Guests 
Thurs March 2            Perth Concert Hall                                       Perth                           WA
Sat March 4                3 Oceans Winery                                          Margaret River           WA
Sun March 5               Castelli Winery                                             Denmark                     WA
Mon March 6              Quindanning Hotel       SOLD OUT             Quindanning               WA
Thurs March 9            Fremantle Arts Centre                                 Fremantle                   WA
Sat March 11               Womadelaide                                               Adelaide                     SA 
Sun March 12              Port Fairy Folk Festival                              Port Fairy                   VIC
Mon March 13            Port Fairy Folk Festival                               Port Fairy                    VIC
Tues March 14            Eastbank Centre                                          Shepparton                VIC
Wed March 15            Albury Arts Centre                                       Albury                         NSW
Thurs March 16           Canberra Theatre Centre                           Canberra                     ACT
Sat March 18              Blue Mountains Folk Festival                     Katoomba                   NSW 
Sun March 19              Anitas Theatre                                            Thirroul                       NSW
Sat March 25              The Odeon Theatre                                      Hobart                         TAS
Sun March 26              The Don Centre                                           Devonport                  TAS
Tues March 28            The Ulumbarra Theatre                               Bendigo                      VIC
Wed March 29             Hamer Hall  JUST ANNOUNCED               Melbourne                   VIC
Thurs March 30           Hamer Hall  SELLING FAST                       Melbourne                   VIC
Sat April 1                   Enmore Theatre                                           Sydney                         NSW
Tues April 4                 Bangalow Hall                                             Bangalow                    NSW
Thurs April 6               The Tivoli Theatre                                       Brisbane                     QLD
Sat April 8                   NightQuarter                                               Gold Coast                  QLD
Sun April 9                  Munro Martin Parklands                            Cairns                          QLD
Wed April 12               Araluen Arts Centre                                    Alice Springs              NT
Thurs April 13            Darwin Entertainment Centre                     Darwin                         NT
Sat April 15                 The Roebuck Bay Hotel                              Broome                       WA