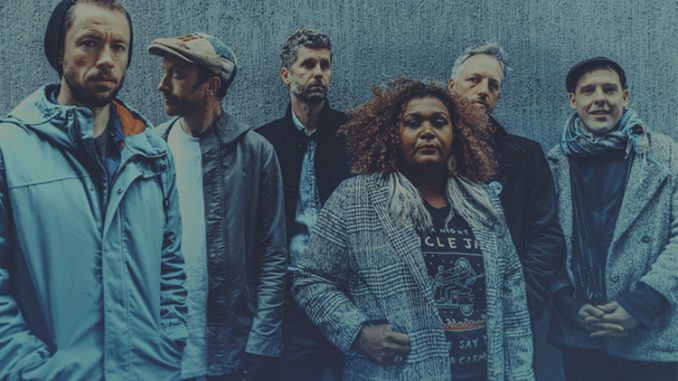 Australian luminaries Ziggy Alberts, DMA's, The Teskey Brothers and Winston Surfshirt are set to join scorching soul singer Curtis Harding (US, only Australian show) and legendary pop surrealists The Dandy Warhols (US) at the inaugural Wanderer Festival, coming to the New South Wales Sapphire Coast September 23-25, 2022.
They are joined in this first-round announcement by Sarah Blasko, Jack River, Isabella Manfredi, Confidence Man, Josh Pyke, Emma Donovan & The Putbacks, Pierce Brothers and many more (see below for the full first round announcement).
The Wanderer Festival heralds a watershed new genre of boutique festival: a truly multi-day, multi-generation celebration of music, art, culture and place on a farm near Merimbula – founded on the core tenets of sustainability, community and creativity. The festival pays its deep respects to the Djiringanj people of the Yuin Nation upon whose land it gathers.
Pioneering Festival producer and Wanderer Programmer Simon Daly, who has created some of Australia's most unique musical and cultural experiences including The Falls Music & Arts and The Lost Lands, comments "It's about tearing down the barriers of the last few years and facilitating human connection and togetherness. We are thrilled to have secured this line up of extraordinary artists for our inaugural festival and feel very privileged to be part of an incredibly welcoming and creative community, in such a unique setting."
Wanderer presents a music line-up that transcends genre and demographic, and a truly diverse arts program that brings together theatre and comedy, circus and cultural workshops. With its focus firmly on the multi-generation experience, Wanderer is a festival for everyone – with different stages, spaces and campgrounds created purposefully for the young, old and everyone in between. The region offers many excellent off-site accommodation options for those preferring to stay beach front, hinterland or in town.
Strategically positioned mid-point between Sydney and Melbourne and just a three-hour drive from Canberra, the Sapphire Coast remains one of Australia's truly pristine landscapes, bound by majestic native bushland, bucolic fields and undisturbed waterways. The region is also home to a vibrant creative community, the spirit upon which the festival is founded. It also promises to be one of the most unique festival experiences in Australia, luring visitors to one of the country's most inspiring destinations.
Minister for Enterprise, Investment and Trade and Minister for Tourism Stuart Ayressaid this was a significant boost for the region.
"I am delighted the nation's newest major cultural festival will be taking place in the beautiful NSW Sapphire Coast, one of the state's most pristine regions," Mr Ayres said.
"Wanderer Festival is going to attract thousands of visitors to one of Australia's most inspiring destinations, providing a fantastic boost to the visitor economy of a region that has been badly impacted by successive years of natural disasters and COVID-19.
"NSW is bouncing back to life and this is as much about putting smiles back on faces as it is about turbocharging our state's visitor economy. Nothing does that more than a brand-new festival celebrating music and art with a strong line up of local and international talent.
"Delivering world-class events to our regions is integral to the NSW Government's Visitor Economy Strategy 2030, to make NSW the premier visitor economy of the Asia Pacific."
Atop its world-class music line-up, Wanderer features an arts program that will traverse comedy, circus, cabaret and theatre, and includes a number of community-minded workshops for all ages. Highlights include the fabulously glam circus ensemble Circus Trick Tease, bringing their show Werk It: fresh from sold out seasons at Melbourne International Comedy Festival and Adelaide Fringe, and boasting circus royalty from Circus Oz and Circa. And the rapturously wry Geraldine Hickey (fellow Melbourne International Comedy Festival winning alumni) crowns the comedy line-up. Please see below for the first-round arts program announcements – with more to come.
Of the arts program, curator Ian Pidd offers: "We are really excited about the breadth of the program. People will come with a must-see list, but will undoubtedly leave with a new favourite act they'd previously never heard of. This is the unique power of live performance. It's also been a privilege to work with the incredibly rich creative community of the Sapphire Coast, who play a significant part in the overall program."
Pre-sale tickets for Wanderer will be priced according to age-group – ranging from $30-$100 for a single day ticket and $70-$260 for a three-day festival pass. Pre-sale tickets go on sale June 3rd 9am, 2022 – available from www.wanderer.com.au
FIRST ANNOUNCEMENT – MUSIC PROGRAM
Ziggy Alberts, DMA's, The Teskey Brothers, The Dandy Warhols, Curtis Harding (only AUS show), Winston Surfshirt, Sarah Blasko, Jack River, DZ Deathrays, Confidence Man, Josh Pyke, Emma Donovan & the Putbacks, Pierce Brothers, Isabella Manfredi, Didirri, Cookin' On 3 Burners, The Grogans, Maple Glider, Jess Ribeiro, Anactoria, Magic Machine, Benji & The Saltwater Sound System, Gabadu, B Wise, Grentperez, Pania, Body Type, Bakers Eddy, Djinama Yilaga, The Bega Valley Men's Choir
FIRST ANNOUNCEMENT – ARTS PROGRAM
Werk It, Geraldine Hickey, Mario Queen Of The Circus, We Shaped Up Like This, Children Are Stinky, Dr Hubble's Bubble Show, The Big Lost Band, The Burnt Sausages, Karaoke, La Petite Grande, Monster Siege, The Beep Test Of Mythical Beings, Face Paint By Children, The Grandest Grand Final, Frankentoys, Bed Sheet Ghost Party