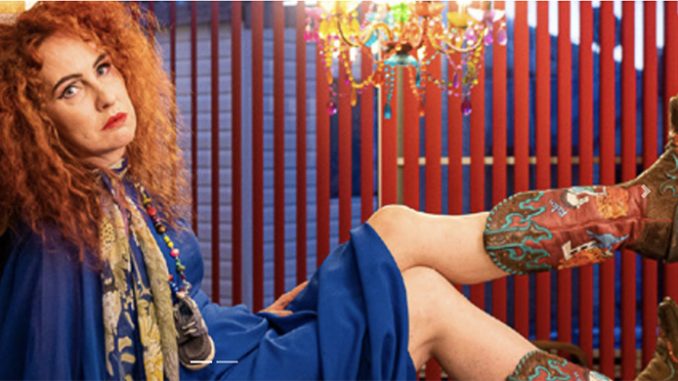 Owning the red hair and lipstick beyond persona, the crown of Australia's Queen of Honky Tonk belongs to Wanita.
Wanita's third album 'I'm Wanita' was recorded by Billy Yates & Larry Beaird at world-renowned Beaird Studios, Nashville. This album has been preceded by two albums, the first recorded at 'The Pub' in hometown Tamworth and the second at Garth Porter Studios, Sydney.
Wanita's voice is respected around the world. 'I'm Wanita' reveals her life in a way that has never been disclosed through the words and notes of a song before, backed by a documentary that captures the essence of Wanita and her albums in moving pictures.
Wanita's album has already been described by someone fortunate enough to have heard it as having "captured the dichotomy of Wanita's life and torrid mood swings, her monumental stage presence, her exceptional vocal capacity and her deep connection with traditional country music". It should be rightly noted though that Wanita's mood swings are only brought on by being with people who display laziness, incompetence, racism, prejudice, and dishonesty.

Wanita has been the centre of a turbulent life, which undoubtedly is what makes her personality and music so raw and real. Wanita experiences the world with an autistic lens, and like the rest of us in Australia, Wanita has been working to see her dreams come true at any expense – scraping pennies together, but still giving everything but the shirt off of her back to those in need.
Wanita isn't just a country music star, but someone who genuinely cares about people whether they live in of Tamworth or on the streets of Nashville. Though so down-to-earth, Wanita is far from every day, pushing with every ounce of her human being to live the life she has dreamed of as a world renowned star of Honky Tonk and country music, in the same way her idol Loretta Lynn has been since the 1960's.
DOCUMENTARY FILM – JUST ANNOUNCED FOR THE 2021 MELBOURNE INTERNATIONAL FILM FESTIVAL.

I'M WANITA – THE FILM

Meet Australia's self-crowned "Queen of Honky-Tonk": renegade country singer Wanita was born ready.
Wanita Bahtiyar grew up on Yorta Yorta country, listening to Loretta Lynn and Hank Williams and dreaming of singing at the Grand Ole Opry. Her first stop on the road to greatness was Australia's country-music capital, Tamworth. That was 25 years ago; to this day, Wanita's raucous, retro honky-tonk style remains underappreciated in the country-music scene. Now, she has one last chance to record an album at the genre's holy sites in Memphis, New Orleans and Nashville. But will Wanita's demons travel with her?
Expanding on his 2015 short documentary Heart of the Queen, Matthew Walker makes his feature directorial debut with this energetic and empathetic portrait that showcases his subject's powerful voice and magnetic screen presence. Wanita's colourful life has encompassed autism, parenting, struggles with alcohol, a tumultuous marriage, sex work and an unrelenting (if unwanted) tendency to burn bridges. Yet she's a true original with a golden soul, and you'll watch this film barracking for her to succeed.
"I'm Wanita is a combination of country-star biography, international road picture, and an authentic country musical the kind not seen since Robert Altman's Nashville … A satisfying, carefully cut gem of a film with a heart enough to cover Texas and the songs to match." – Original Cinema
MORE INFO HERE: https://miff.com.au/program/film/im-wanita