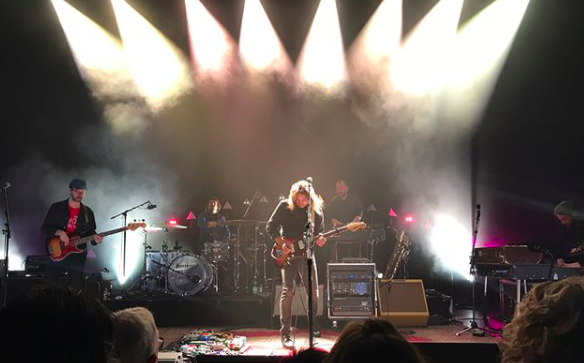 Out step Philly's musical finest at the moment, riding the beastly wave of success. They've just been bestowed with the honour of having their latest album, A Deeper Understanding, crowned as 'Best Rock Album' at the 60th Annual Grammy Awards, and witnessed their beloved and long-suffering Philadelphia Eagles win the Super Bowl. It's been an emotional February. Lead WOD Adam Granduciel is a mess of tousled hair and howling guitar licks. Resembling a cross between Alexander "Puss" Braun aka actor David Dencik from the most recent Top of the Lake season, and chef Shannon Bennett, Granduciel squeezes out opener 'Eyes to the Wind' from 2014's Lost in the Dream, before sheepishly raising his eyes and muttering: "Thank-you and goodnight". These words were by and large the only ones the man uttered throughout the set.
David Hartley (bass), Robbie Bennett (keyboards), Charlie Hall (drums), Jon Natchez (saxophone, keyboards) and Anthony LaMarca (guitar) are, on record, as tight as Bon Scott's denims, so the challenge was to replicate and go next level jam in the live space. They tried, but the choppy, at-times-sloppy and volume-retarded mix sadly wasn't on their side. First it was the Granduciel vocal mixed low and slow that had this scribe wonder if his god awful swimmer's ear had returned. Then it was Natchez's sax that copped a bad rap. No matter how hard the big man blew on that brass it was all to no avail and you could get a sense that he knew that.
Drummer Charlie Hall was like a drumming monkey wind-up toy as he kept mechanical time and the same moustachio'd pout, but the sticksman was crystal clear to the ear. It seemed like the Hall and Granduciel show for the most part, though, as the other lads struggled to have their instruments heard during a set dominated by tracks by their two most recent cuts, plus 'Buenos Aires Beach' from 2008 debut Wagonwheel Blues. Nobody can question the output of The War on Drugs on record but live there is a dynamics issue with the sextet that you don't get with the more complex and multidimensional bands like Wilco, the Bad Seeds and My Morning Jacket.
It almost seems that the individual members of WOD are so intrinsically focused on their own playing that the collective good of the 'band' is neglected. This is of course just an observation based on this evening. There is less of a story unfolding on stage and more a silo-effect while camaraderie seems distant tonight, too. That's not to say that The War on Drugs don't have stupendous songs, because shit yes they do – they're predominantly linear in a musical sense with drum patterns on repeat and the lead guitar forever lends itself to extensive noodling and jams – this is the band's legacy. Their sound is immediate, melodic and as catchy as pinkeye, but more variation, spontaneity and an emphasis on the sum of its parts would have had this reviewer doing backflips.
BY Nick Argyriou