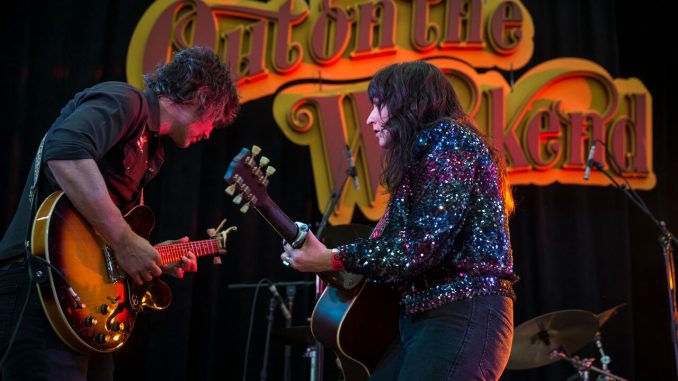 "You cast a shadow on my heart babe, every time you move a certain way/Put pressure on the blood veins/Resuscitate the heavy weight but alleviate the pain/Nothing ever came so easy/Nothing ever came so hard/Am I dreaming again…",  laments Tracy McNeil on the title track from her latest record, Thieves. This supreme album was dedicated to her late mentor and musician father Wayne who died at the end of 2015, during the recording of his daughter's fourth release, and the sentiment is oh-so raw. McNeil's sequin jacket shimmers in colours white, yellow and tangerine from the hanging light bulbs that stretch the breadth of the indoor space, as she and her GoodLife band steal the show as one of the opening acts alongside bluegrass and folk aficionados Stetson Family, with their unruly brand of country twang with 70s-style harmony and guitars.
Melbourne Bitter cans flowed alongside a boutique blend of ales, top-notch cocktails and whisky entered the fray, there were no lines for the ATM, plus minimal ones for the latrines and you could stroll up to chow vans and order 14-hour smoked Mesa Verde brisket or Beatbox Kitchen burgers and Taco Truck business and devour the goods tout suite before your Stetson or trucker cap blew off from the seriously squally Williamstown wind. There was even one bloke in full Native American Headdress, too. Bloody hell. Meanwhile, Pirates Tavern rolled out a dim sim trade from the bar with the scent in there overwhelmingly taking on that of a teenage boys' bedroom. Funny. It's a top bar, though.
Bakersfield Glee Club go about their old-timey, honky-tonk thang on the Outside Stage as the gale-force winds threaten to blow punters away and onto Sea Shepherd's Steve Irwin ship. RRR's Twang Live Broadcast kicks in between 2-4pm and host Denise Hylands is as you'd expect her to be on this her 20th Anniversary of the radio program – buoyant, kinda boozy, bouncing off the walls. Good on her. It's been an epic run. A slew of guests slide onto the Main Stage during the live-to-air piece with Ballarat Appalachian prodigy Freya Josephine Hollick and Kat Mear (Cash Savage) on fiddle making much magic with their brand of yesteryear country, blues and folk, complete with dope yodelling. The Cartridge Family with bassist/vocalist Rusty Berther, Suzannah Espie and co is a perennial party-starter, where Matt Joe Gow works over a straight Nashville-angle, meanwhile The Cactus Blossoms tap into their brotherly dreamy-duet vibe and soften the mood.
Joe Pug strolls on and talks marriage. "It's been great, but we're divorced now," he jests, before belting into a super-stringy version of 'Burn and Shine' from last year's Windfall. Robert Ellis then appears in a rude pink shirt, parading the biggest belt buckle on the bill. He opens in the total opposite manner to Pug with a marriage-breakdown ditty, 'Elephant', which leaves couples holding one another tight thinking of what could be. All Our Exes Live in Texas are pin drop material, so softly spoken and tender in their approach, before launching into The White Stripes' 'Hotel Yorba' with genuine gusto.
A 65-days-sober Joshua Hedley is all heart and hurt before we get put on our collective arses by Canadian firebrand Lindi Ortega who pulls the trigger with her rhythm & blues Yeah Yeah Yeahs feel, the electric guitar of 'Champagne' James Robertson is a revelation with its hazy feedback and tone hypnotising all and sundry. The band's sultry rework of the Johnny Cash classic, 'Ring of Fire' going next level. Enter Robert Ellis. Again. Wow. Having changed from the rude pink shirt to a blue rhinestone-studded astronaut number, the American is all cheek and insanely grand chops. He renames a band member 'Pedal Steel Steve', tells tales of the Bible Belt, sweats up a storm like Elvis and banters with us. "Don't hate our rednecks, you got some real bogans here, too! Who has a ute?" He even refers to Out On The Weekend promoter extraordinaire, BT, as mentally ill. Brave.
Cash Savage & The Last Drinks are as ominous as always. Savage forever stalks the stage, lost in the moment. Complete white line fever. Their latest opus, One Of Us gets a fearful run with wall-to-wall hits and Australian country-punk and blues anthems aplenty spouting out into the dark night sky. Clean-cut Marlon Williams is the headliner and doesn't bring the heat early to capitalise on the maniacal performances of Ellis and Savage, instead working over a series of slow numbers. Along with a bunch of tracks from his debut self-titled record, we're served up a cover of Neil Young's 'Out On The Weekend' with Robert Ellis in tow. Someone had to play it, right? Then there's the stirring cover of 'Portrait of a Man' by Screaming Jay Hawkins with Williams now sporting a Bluey. Joshua Hedley even pops up on the fiddle towards the end. Nice touch. With a Bruce Springsteen and the E Street Band support in 2017 looming, this crooning Williams kid is clearly on a roll. Charisma personified. Much like this festival
By Nick Argyriou