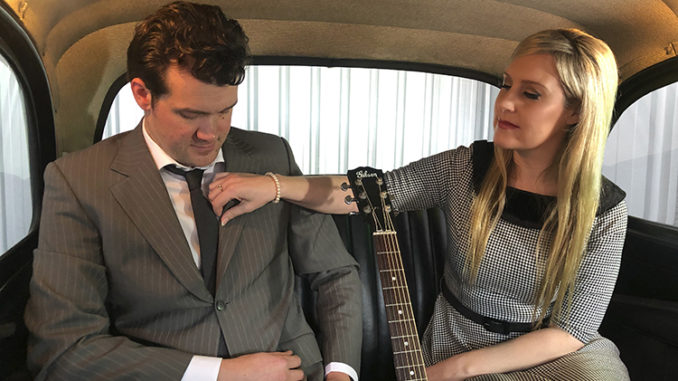 Americana two-piece The Weeping Willows are releasing a stunning new single 'Wheels Won't Roll,' on Friday August 14, which returns them to the timeless country-folk roots of their beloved Americana canon. You can watch the video below:
A reflection on the inertia and malaise that plagues us all, sometimes, 'Wheels Won't Roll' is a welcome study in the palpable warmth and sympathy that inheres in The Weeping Willows' celebrated vocal harmonies.  An understated jaunt carried by irresistible acoustic fingerpicking belies the song's guiding message: when the wheels fall off, nothing remains but to consider the road ahead.
 
'Wheels Won't Roll' tails The Weeping Willows' portentous sophomore album Before Darkness Comes A-Callin': an austere storytelling masterwork that fairly bristled with fatalistic intensity, garnering four-star reviews from Rolling Stone, The Australian and The Music.  Given all that has transpired since Before Darkness arrived in 2016, its ominous cast now seems strikingly prophetic.
Partners in the truest senses, both creative and romantic, The Weeping Willows—severally Laura Coates and Andy Wrigglesworth—have long delivered a mesmeric potion writ in otherworldly vocal harmonies and country-hued folk storytelling and drawing on a wellspring of timeless sounds and traditions.  Their intoxicating sound invites comparison with the storied likes of Dave Rawlings and Gillian Welch and has taken The Weeping Willows to festivals and venues both Australia-wide and overseas, winning legion fans around the world in the process.
The Weeping Willows have appeared at the industry-leading AmericanaFest (USA) and Folk Alliance International (USA), along with the UK's Maverick Festival and annual local fixtures from Port Fairy Folk Festival to Queenscliff Music Festival. They've supported the best and brightest in the Americana fold, including Lukas Nelson & Promise of the Real (USA), Iris DeMent (USA), Hayes Carll (USA), Eilen Jewell (USA), Kinky Friedman (USA), Kevin Welch (USA), Shane Nicholson, Bill Chambers, and Lachlan Bryan.
The release of 'Wheels Won't Roll' finds The Weeping Willows continuing to build unstoppable momentum. They've been nominated for five CMAA Golden Guitars, four Country Music Channel (CMC) awards, the National Live Music Awards (NLMA) award for Live Act of the Year (Country), the Group or Duo of the Year award at the Australian Independent Country Music awards and the award for APRA AMCOS Australian Independent Country Music Single of the Year. Together, Laura and Andy have netted three Tamworth Songwriters Association (TSA) awards and were shortlisted for 2017 and 2019 APRA Professional Development Awards.

Recent single 'Too Far to Go' with Matt Joe Gow topped the AMRAP charts for two weeks running.
Self-produced by The Weeping Willows, 'Wheels Won't Roll' was recorded, engineered and mixed by Ryan Freeland (Justin Townes Earle, Tift Merritt, Bonnie Raitt) at Los Angeles' hallowed Stampede Origin Studio. For lovers of analogue, the single will be issued in 7″ format in August this year, along with an exciting second single.

'Wheels Won't Roll' serves as a captivating taster of The Weeping Willows'forthcoming third album, due early 2021.  That album promises a return to the glorious, bittersweet feeling of celebrated debut Till The North Wind Blows (2012), which arrived wreathed in feeling, ushering two of Australia's most profoundly gifted songsmiths onto the stage.
'Wheels Won't Roll' – the brand new single from The Weeping Willows, available 14th August 2020 from The Weeping Willows store: https://theweepingwillowsduo.bandcamp…, Spotify, iTunes, Apple Music, Google Play and all good online music retailers. Directed by Lachlan Bryan.