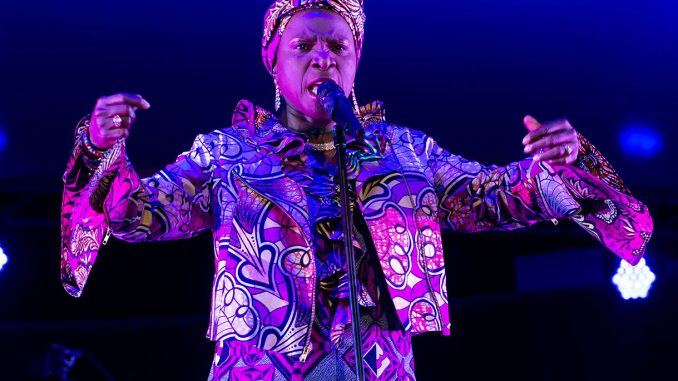 By TONY HILLIER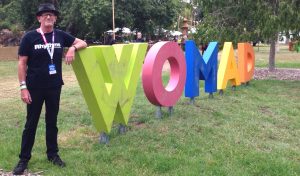 (Photos Rob Sferco)
Wondrous as always, this year's WOMADelaide festival provided a perfect platform for some power-packed and socio-politically vociferous African divas to strut their stuff on International Womens Day weekend.
While Benin-born afro-funk queen Angélique Kidjo and the 20-years younger heir to her crown, Fatoumata Diawara from Côte d'Ivoire and Mali were suitably regal, it was a relatively unknown artist from The Gambia — another tiny West African nation — who all but stole the show.
Whereas her soul sisters in song were reared in French-speaking countries before moving to Paris, Sona Jobarteh was actually born to an English mother and nurtured in London prior to relocating to the land of her heritage. Visually as stunning as her Francophone contemporaries and a superb singer, Jobarteh also has considerable ability as an instrumentalist. Indeed, not only has she broken into the previously male griot preserve of kora to become a virtuoso of the 21-stringed West African harp, which she has been playing since the age of three, but she's also proved to be a guitarist of no mean talent.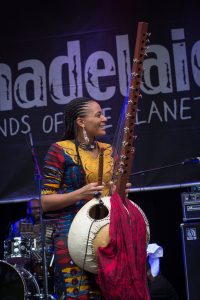 Jobarteh made a bold introductory statement by kicking off stunning sets on successive days with 'Jarabi' — a standard in the repertoire of any self-respecting kora practitioner. A second cousin of the legendary kora player Toumani Diabate, who has wowed WOMADelaide festivalgoers several times with that piece over the years, she had the audience on side from the get-go, inducing them to sing along to the song's infectious catchline. On the Novatech Stage, this likable and unpretentious artist even managed to mesmerise the usually chattering grey-headed flying foxes roosting in stage-side trees with the quality of her music.
The audience also happily joined Jobarteh on the chorus of a song in praise of her homeland, a catchy number that also served to emphasise the rapport she enjoys with her acoustic guitarist, Derek Johnson. On a song dedicated to Fula, one of the largest nomadic groups in the world, she swapped kora for guitar to exchange intricate figures and riffs with her left-hand-man. In other songs, she allowed her dreadlocked percussionist Mamadou Sarr to show his prowess on calabash, conga and tama (talking) drums, two played simultaneously.
Another shooting star making her WOMADelaide debut, Fatoumata Diawara took longer to hit her straps from the Foundation Stage on Friday evening. When she did, there was no holding her. The turning point came when she ripped a turban from her head after a whirling dervish dance to reveal long dreadlocks. Utilising all of her theatrical skills in a slick show, Diawara also showed her burgeoning ability as an electric guitarist, upping amps and effects pedal to swap grungy riffs with her Hendrixian lead axeman, Côte d'Ivoire guitarist Yacouba Kone, during several songs.
The rest of her pan-African band — Malian Sekou Bah's diaphragm shuddering electric bass, Togo percussionist Jean-Baptiste Ekoué Gbadoé's drums and keyboardist Arecio Smith's fills and washes — ensured there was no drop in volume or velocity. A little less proselytising and more playing from this charismatic artist would have been welcomed, but "Fatouma" certainly was in good voice — at one stage even throwing in a sample of Mongolian throat singing for good measure.
The ebullient Malian, whose gregarious nature might stem from the fact that she comes from an unusually large family (as she revealed during an Artist In Conversation session), certainly made her presence felt when she was invited on stage during Angélique Kidjo's show-stopping finalé on Sunday evening to duet and dance with the superstar, along with a selection of punters plucked by the Beninese bombshell from an audience packed like sardines.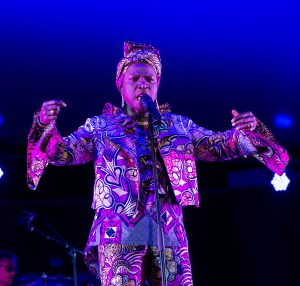 Kidjo was in imperious form on what was her sole show at this year's WOMADelaide, looking resplendent in a colourfully patterned suit while strutting the stage like a caged tigress or a pugilist pre-bout. She had in tow a polished multi-national band, comprising regular sidemen French keyboard player Thierry Vaton, New York guitarist Dominic James and Chilean drummer Yayo Serka, plus "new boys" in Californian-raised African percussionist Magatte Sow and Nigerian bass ace Michael Olatuja.
The diminutive Kidjo, of course, called all the shots in a funked-up, high energy production which rendered rapturous Afrobeat-accented versions of David Byrne's timeless socio-political commentaries, in track order, from her riveting revision of Talking Heads' classic 1980 album Remain In Light. Contrast came from interspersed renditions of her role model "Mama Africa" Miriam Makeba's anthem 'Pata Pata' and one of own her own compositions, 'Girls Are Not Wives' — a potent statement about child brides. In 'Afirika', a song she wrote on the eve of the new millennium, the Grammy Award-winning musician and UNICEF ambassador had the seething throng singing along lustily.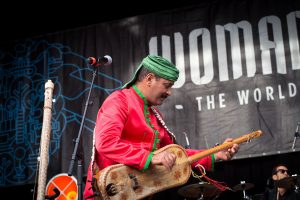 If West Africans ruled the female roost, a colourfully attired North African all-male ensemble marshalled by a master player of the three-stringed bass lute known as guembri proved the "find" of this year's WOMADelaide.  Morocco's Maâlem Hamid El Kasri — the first word of the title equates to "the one who knows" — plays music and sings sonorously in the gnawa style of a rich repertoire of ancient North African Islamic spiritual religious songs and rhythms that combine ritual poetry with traditional music and dancing. Five super-attentive singers, clappers and castanet players, clustered round the master for some marvellously uplifiting — and genuinely mesmerising — call & response singing, backed by a dynamic kit drummer.
While they got a good response from big crowds at the Foundation Stage, the other (predominantly) male Africans in action at this year's festival, the clamorous 7-piece South African collective known as BCUC, and the Congolese rapper/singer and dancer Baloji, didn't do it for this festival-goer, nor did another vaunted main stage act in Friday's headlining super-slick French synth-pop show orchestrated by Christine & The Queens, whose songs and choreography smacked of 1980s' Michael Jackson. The flamenco-ised dance and music feminista version of Bizet's Carmen by Spain's María Pagés Compañía made a more original, subtle, artistic and elegant statement. The other Hispanic act, Las Cafeteras — an animated Chicano band from East Los Angeles — mixed Mexican carnival vibes and politics with aplomb.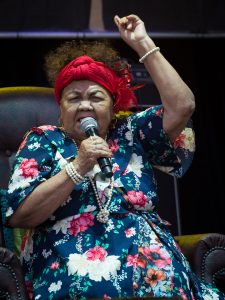 On the cusp of 80, Brazil's Dona Onete proved age is no barrier to reinvention with her Amazon-inspired songs.  The so-called "Queen of Carimbo" might have held court from a comfy leather armchair, but she and a kickass all-male band served up pizzazz in spades.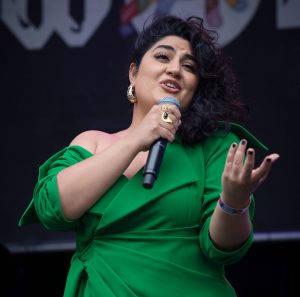 Iranian diva Tara Tiba, who relocated from Tehran to Perth in order to perform in public, exuded class and charm as she sailed through the songs on her eclectic and elegant new album Omid with a gun crew of Cuban expats — most notably the piano whiz Ivan "Melon" Lewis.
A trio of female musicians and similarly virtuosic males in the latest incarnation of the revolving doors multi-national collective known as Silk Road Ensemble gave a new meaning to eclecticism, incorporating instruments as diverse as Galician gaida bagpipes and Chinese sheng with more familiar classical instrumentation. A UK-based combo led by Polish harpist Alina Bzhezhinska lent cool jazz vibes to the intimate Zoo Stage. Another quartet, Rebetien, brought equally consummate shades of the Aegean to the same venue. Amjad Ali Khan and the Adelaide Symphony Orchestra elegantly fused Indian and Western classical music.
A communion of sorts occurred, appositely enough, early on Sunday arvo at the Foundation Stage when a predominantly honky crowd joined the Central Australian Aboriginal Women's Choir in a moving rendition of the unfairly maligned 'Kumbaya', sung in Western Arranta language.
The funniest act of the weekend — most unexpectedly, I hasten to add — was Germany's La BrassBanda, a former Eurovision act comprising seven self-deriding shoeless männchen clad in lederhosen. Their R&B and ska-enhanced interpretations of Bavarian folk tunes were as funky as anything out of the Balkans or New Orleans.
The most wide-ranging and entertaining performance of the weekend came from a band led by the perky, elfin-like Irish accordion whiz Sharon Shannon, whose playlist stretched from Dylan and Steve Earle songs to an original James Brown-inspired jigs medley climaxed by an improvised beat boxing duet. The star of her show was a slip of a colleen called Susan O'Neill, who possesses pipes that would give Janis Joplin a run for her money.
All up, some 75 acts performed to more than 90,000 people over three choc-a-block days and one night at WOMADelaide — an event that was recently named joint-best music festival in the world by the Transglobal World Music Chart (TWMC), a panel of 50-plus world music writers and broadcasters from every continent. It was a well-merited award. Without WOMADelaide, Australian audiences would not get to see the crème-de-la-crème of global musicianship in a setting as salubrious as Adelaide's leafy Botanic Park over an idyllic March weekend.