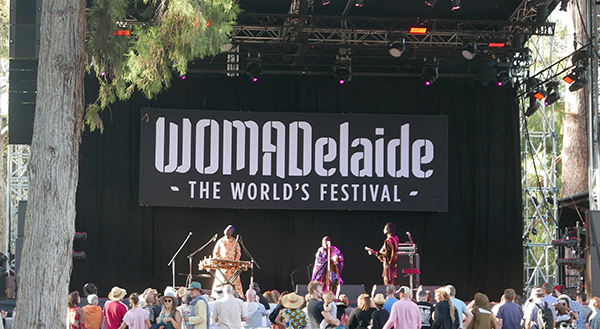 By TONY HILLIER (Photos by Rob Sferco)
If the age-old aphorism is accurate in suggesting that variety is indeed the spice of life, last weekend's WOMADelaide 2020 festival served up a smorgasbord of delights sufficient to sate the senses of any world music connoisseur.
A more contrasting program would require considerable imagination. The opening card on a cool Friday night in the verdantly salubrious surrounds of Botanic Park was as diverse as the array of animals in the adjacent Adelaide Zoo.
The evening kicked off on the Foundation Stage, after the traditional Aboriginal welcome-to-country, with some predictably hot rocking gospel from the world's longest-running band. Instigated way back in the late-1930s during the infancy of World War II, The Blind Boys Of Alabama had the happy clappers, seven decades on, reaching for heaven as they plucked old favourites such as 'Walking To Jerusalem', 'People Get Ready' and 'Spirit in The Sky' from their well-thumbed repertoire of spiritual harmony studies.
Backed by the lead brilliance of balafon (West African wooden xylophone) and pulsating ngoni (lute) rhythm provided by her partners in Trio Da Kali, Hawa Diabaté's vibrato vocalising soared into the cloudless night sky from Stage 3, with a local string quartet ably filling the role played by the world-famous Kronos Quartet on the Malian group's lauded album Ladilikan.
Back on the Foundation Stage, the 14-piece Orquesta Akokán — a smartly attired amalgamation of salsa players from Havana and New York City — had a large crowd tripping the light fantastic as they resurrected the sound of Cuban mambo's golden big-band heyday with panache.
Meanwhile, over at the Moreton Bay Stage, Spain's Artefactum transported an attentive and seated audience back to the Middle Ages via their lusty madrigals and expertise on medieval instruments such as hurdy-gurdy, organetto and crumhorns.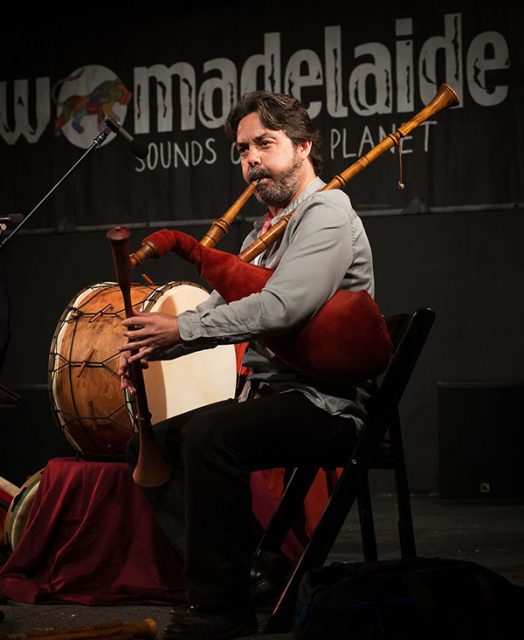 The Friday night session culminated in some simply irresistible Latin and Afro-tinged pop from the ever-popular Cat Empire, whose infectious mantras have been a constant at WOMADelaide for the past 15 years. Favourites from the early section of the band's back catalogue had a huge crowd singing along to the choruses con mucho gusto before the Melburnian cats — boosted by a 3-piece horn section — let rip with some more expansive and experimental material showcasing the not inconsiderable classical and jazz chops of their keyboard maestro, Ollie McGill, and the choirboy-honed vocal pyrotechnics of trumpeter Harry Angus.
Saturday's afternoon session, for this music lover, was dominated by the articulate and personable American singer, multi-instrumentalist and song-collector Rhiannon Giddens, whose fluent fiddle and banjo playing and culture crossing was perfectly complemented on accordion, piano and percussion instruments by Francesco Turrisi. Giddens and her Italian partner-in-rhyme redefined the meaning of eclecticism, bounding from Puglian pizzica (tarantella) to a 1920s' croon ('Harlem Moon') and on to an Appalachian and Klezmer-esque medley. An imaginatively arranged Irish ballad 'Molly Brannigan'— preceded by a terrific solo from Turrisi on the humble tambourine — led to a raunchy blues. You could hear a pin drop as Giddens delivered her devastating composition 'At The Purchaser's Option', an ineffably sad song that's rooted in 19th century slavery.
While Rhiannon Giddens held sway under the bright afternoon sun, the legendary Malian maestro Salif Keita and his band of Afro-pop thoroughbreds had a bumper audience in front of the main stage spellbound under a starry late Saturday evening sky. If this proves to be the albino legend's swansong Down Under, as the man himself has suggested, Salif certainly bid adieu in scintillating style. Exceeding previous performances at the festival, the 'Golden Voice of Africa', despite an impassive countenance, was at his soaring peak as he revived memories of his superb ground-breaking late 1980s' international debut recording Soro and other fine albums, including his most recent (and quite possibly final) release Un Autre Blanc. From the two female back-up singers, operating to his right to the guitarists on the left and the drummers behind, every member of Keita's band rendered exemplary support, but none more so than Mamadou Diabaté, whose amplified kora, apart from providing fills and the thrills throughout an outstanding set, held centre stage during a truly riveting 5-minute solo turn.
Elsewhere on Saturday's star-studded program, this inveterate stage-hopper sampled the superlative 49-note microntonal singing of Pakistan's Ustad Saami — sadly the last of a dying breed — and the equally mesmerising and meditative Indian classical violin work of the justifiably lionised L.Subramaniam. Meanwhile, over at Stage 7 on the Frome Road side of the Park, where the bats hang out, the lusty harmony singing and playing of the Georgia sextet Iberi were similarly enthralling.
The beautiful ballads of Portuguese songstress Luisa Sobral on the Moreton Bay Stage were unfortunately negatively impacted by the trance electronica of the clamorous Maghreb band Ifriqiyya Electrique on Stage 3. On Sunday, the exquisite duo of Welsh harpist Catrin Finch and Senegalese kora whiz Seckou Keita suffered similar sound spill from the frame drums of La Reunion's pounding percussion on Stage 3.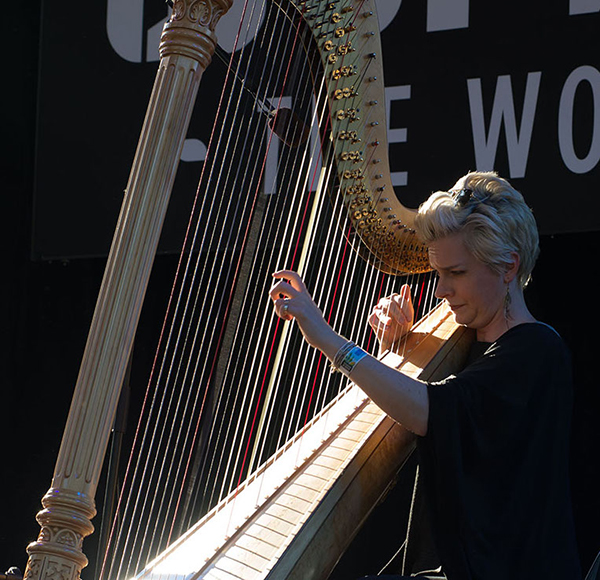 Scottish quartet Rura celebrated their tenth anniversary as a band with a solid if somewhat one-dimensional set on Stage 3. Main stage acts, Brazil's smooth-as-silk Liniker e os Caramelows, led by a flamboyant transgender singer, and Japan's manic Minyo Crusaders would have been a great fit at the Sydney Gay Mardi Gras.
WOMADelaide is tailor-made for the well-directed Melbourne big band Public Opinion Afro Orchestra, which was amply reflected on Stage 2 on their triumphant return to the festival. Spinifex Gum, the mellifluous young Aboriginal female choir and project from WA's Pilbara region masterminded by the Cat Empire's Felix Riebl and Ollie McGill and brilliantly choreographed, was similarly well received on Stage 3. The soulful Far North Queensland singer Deline Briscoe and a pumping indigenous band showed plenty of pizzazz at the Zoo Stage.
Sunday's afternoon session was a tad too percussion heavy, although the animated Belgian octet KermesZ a l'Est — aided and abetted by the giant dancing puppets of France's roaming Company Archibald Caramantran — proved a hit with their pulsating Balkan brass and Zorba-esque meets NOLA brass band cum punk approach.
Sunday evening started well with the eye-catching big-haired, mariachi-clad Mexican/American female quartet Flor de Toloache impressing with their singing and playing on Stage 2. Australia's popular Hiatus Kaiyote kept the jazz flag flying on the Foundation Stage, but were overshadowed by Ezra Collective — scions of the UK's burgeoning nu-jazz scene — who turned in a killer groove-laden set on Stage 3 that left the crowd baying for more.
Unfortunately, your correspondent had to leave before the closing day sessions on Monday, disappointingly missing the solitary shows of veteran American gospel/soul legend Mavis Staples and neo English folkie Laura Marling. If I sidestepped other divas such as Kate Miller Heidke and the up-and-coming Aldous Harding earlier in the festival, it was to catch more exotic international acts, which to this reviewer are the heart and soul and maybe even the essence of any WOMADelaide.