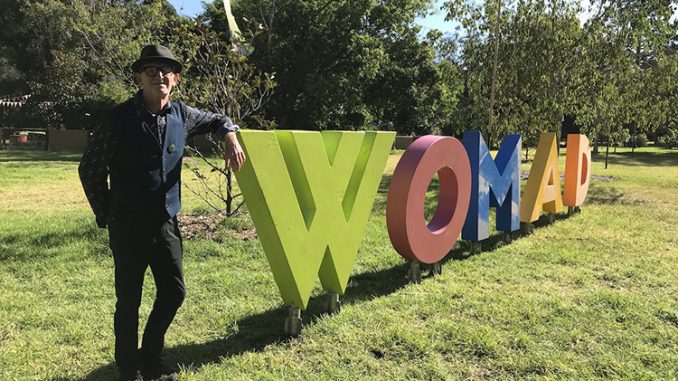 Review by TONY HILLIER
Photos: Rob Sferco
Cherished memories accumulated over thirty years came cascading back as WOMADelaide celebrated a significant anniversary on the long weekend of March 11-14 under a bright blue South Australian sky.
Understandably, given Covid's continued presence, international artists of the stature of the late sitar god Ravi Shankar and qawwali deity Nusrat Fateh Ali Khan and the West African superstar singers Salif Keita, Youssou N'Dour and Baaba Maal, whose virtuosic musicality graced past festivals, were missing from this year's line-up.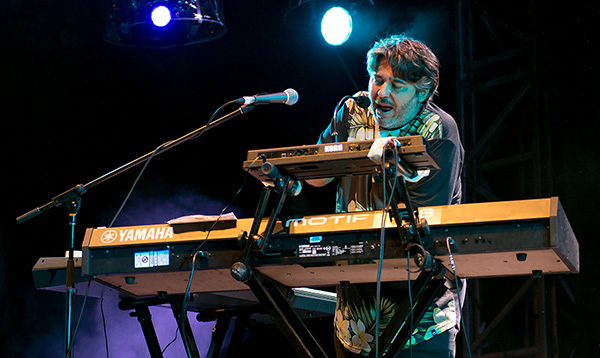 That's not to disparage veteran Rio de Janeiro funksters Azymuth & Marcos Valle, whose musicianship and showmanship greatly impressed jazz lovers and Brazilian nuts in Saturday and Monday concerts. Or, indeed, Scottish band Elephant Sessions, whose Celtic strings meet club beats brand of folk induced marionette-like teenage gyrating under a scorching Monday arvo sun. I can't say I was over enamoured with the Highlands' clan or the even more clamorous rap driven electronica of popular Aussie acts such as Baker Boy and L-Fresh The Lion, even though their respective Aboriginal and Sikh/Punjabi roots socio-political messaging merits respect.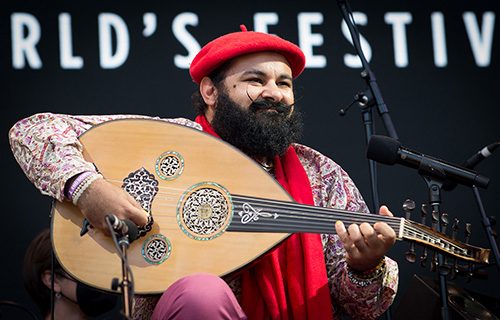 For the bill overall, plaudits must go to long-time WOMADelaide programmer Annette Tripodi for pulling together such an interesting and wide-ranging program in these difficult and demanding times. Her decision to pair Aussie-Egyptian oud (Arabic lute) maestro Joseph Tawadros — pound-for-pound one of this country's finest instrumentalists (though he currently calls London home) — with the Adelaide Symphony Orchestra on the Foundation stage resulted in what was undoubtedly one of the finest and best-attended opening concerts since those ace American sultans of string, the Kronos Quartet, kicked off proceedings in 2005.
The show started and finished at breakneck pace, with Tawadros senior and his percussion playing (and heavily bearded) younger brother James leading the ASO a merry dance. In between, the siblings — brilliantly backed by the full orchestra — performed more poignant and reflective works. At the end of 'Point Of Departure', an elegy to parents that tragically passed away within a year of each other, and eerily out of the blue, came a sudden gust of wind that had the musicians scrambling to retain their scores.
The Tawadros brothers' Sunday duo concert at the idyllic tree-lined Moreton Bay stage was a more relaxed and casual affair, which induced further brilliance and more wicked repartee from the incomparable Joe T. It witnessed the christening of an impressive new work from the maestro, 'Allali', and an excellent rendition of 'Constellation', a spectacular textural work exploring the oud's surprising versatility (in the right hands).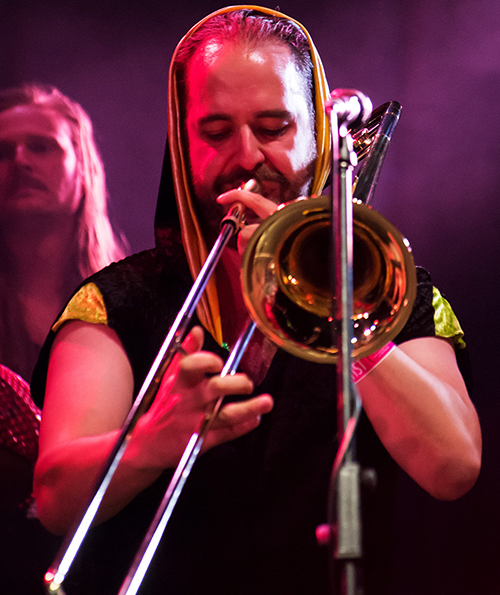 Right across the musical spectrum, it was heart-warming to see Aussie bands rising to the occasion over the weekend, filling the void caused by the paucity of overseas' acts. For example, Adelaide's very own 11-piece Shaolin Afronauts, whose members have grown up with the festival. They executed an exciting afrobeat-accented set to close the opening night's entertainment on Stage 3 — a performance that foreshadowed a long overdue new album later this year.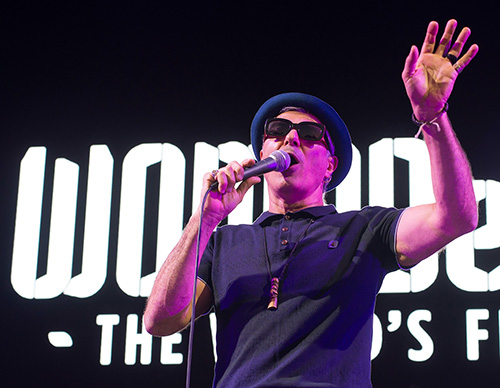 On Saturday night, the Melbourne Ska Orchestra, brilliantly marshalled by Nicky Bomba, their irrepressible energex bunny of a leader, had a huge crowd skankin' like there was no tomorrow with their high-powered, feel-good Caribbean grooves. Bomba fronted up early the next afternoon to deliver an informative talk on the history of ska, illustrated entertainingly by Bomba and a handful of MSO members.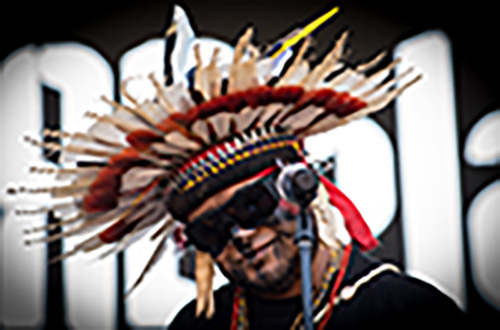 Earlier in the day, percussionist Airileke Ingram's latest collective, Sorong Samarai, performed a stirring set featuring a unique mash-up of songs of resistance from West Papua alongside the rat-a-tat-tat of log drums and pounding of Kundu drums and dancers from PNG. Another arresting percussion-driven gig, performed by the Te Tangi O Te Ka'ara troupe, showcased the equally dynamic South Pacific drumming and dancing of traditional Cook Islands' arts.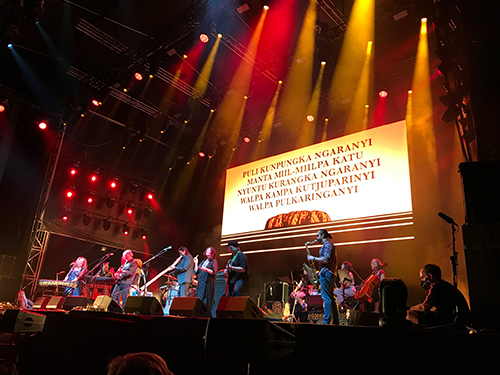 On Sunday, veteran folk-rockers Goanna wound the clock back to their heyday in the 1980s with a totally mesmerising 40th anniversary show that featured contributions from a handful of special guests, including didge master William Barton in a spine chilling rendition of the band's indigenous land rights anthem 'Solid Rock', which had back-up guests Emma Donovan and Redgum's John Schumann and a huge crowd singing along to with gusto. Wonderfully simpatico electric guitar work from an animated Graham Davidge on the left flank enhanced throughout.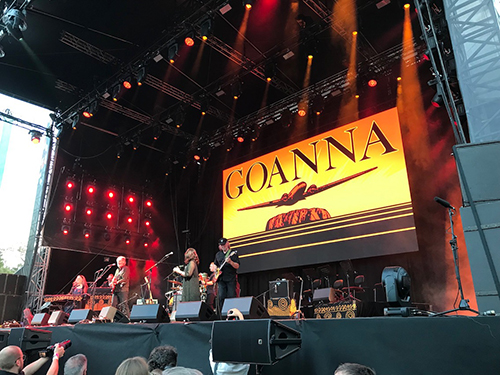 Frontman Shane Howard and his fellow "Goannans", sister Marcia and Rose Bygrave, were all in great voice, the ladies soaring in their respective solo performances, and backing up beautifully in other pieces from their band's landmark 1982 album Spirit Of Place, on 'Razor's Edge' and 'Stand Yr Ground', and other Howard classics like 'Light Of Day' and 'Let The Franklin Flow'. Prolonged applause from a spellbound crowd at the end of their performance was richly deserved. Goanna has a multi-date national tour lined up between June and December, taking in all capital cities and major regions. Don't miss 'em!
A truly memorable evening's entertainment on the Foundation stage was kicked off by a livewire 20-piece behemoth of a band called Yid that mixes traditional Yiddish music spiced with jazz, big-band, funk, electronica and a seemingly inexhaustible supply of chutzpah.
The Cat Empire, Australia's favourite party band, rounded off Sunday night on the main stage with what was, sadly, the penultimate performance with their original members (this year's Bluesfest will reportedly host their final show in the format). Regrettably Felix Riebl's singing, for whatever reason, was not as strong as usual but more than compensated for by his enthusiastic leaping and consummate percussion drumming. However, his partner-in-rhyme Harry Angus was as robust as ever as a vocalist and trumpeter, while pianist Olly McGill turned in some blinding jazz-informed solos. One of the highlights of the Cats' set was a protracted performance from the distinguished Melbourne flamenco troupe Arte Kanela during one of their songs.
Unfortunately, I only caught the early part of Paul Kelly's closing main-stage show on Monday, where he was assisted by Vika & Linda Bull and other guests in rendering a selection of iconic PK songs, but he sounded in top form.
If the essence of festivals is discovery, blind South Sudanese instrumentalist Gordon Koang, wielding a strange looking 4-stringed guitar-like instrument front of his band, would have been hailed at this year's festival. Were awards handed out for innovation and experimentation, the new jazz-rock super-group Asteroid Ekosystem and High Ace (the husband wife duo of Jeff Lang & Alison Ferrier) would also be in line for a gong. For all their technical wizardry, Martinez Akustica's gig was, unfortunately, undermined by the absence of meaningful melody and a surfeit of pyrotechnics.
Of the Australian Aboriginal acts, the hard-hitting Yolngu band King Stingray — direct descendants of Yothu Yindi – excelled from Stage 2 on the festival's closing day. The annoyingly loquacious but decidedly mellifluous singer Kutcha Edwards was in excellent voice on the opening night on the same stage. At the more intimate Moreton Bay stage on Monday, Yolngu songman and yidaki player Daniel and David Wilfred transported spectators to the Top End in a seductively evocative show under the Australian Art Orchestra aegis, via centuries-old song cycles, flanked by trumpeter Peter Knight, clarinettist Aviva Endean and Korean jazz singer Sunny Kim.
On the folk front, Bush Gothic beguiled with their unique interpretation of Australiana classics in two shows, while the soaring harmony vocals produced by a female choral front line impressed in the Balkan Ethno Orchestra's gig. Makepisi, an a capella quintet of South African expats, stamped themselves as a down under version of Ladysmith Black Mambazo in their sole gig.
WOMADelaide is a festival that sates and sometimes assaults the senses with such a spectacular spectrum of sound and style that even punters who profess not to like so-called "world music" leave Adelaide's salubrious Botanic Park at the end of the 4-day extravaganza with altered perceptions. Such would have been the case at WOMADelaide 2022, albeit with a dominant domestic-based bill.
Next year, when hopefully the festival will have access to a full range of acts from overseas once more (fingers crossed, touch wood etc), WOMADelaide will have more fire power at its disposal. If they survive the heinous Russian invasion of Ukraine, I sincerely hope the quartet DakhaBrakha, who knocked our socks off at the 2016 festival with their percussion, cello and voice-driven "ethno-chaos", will receive an invitation to return.