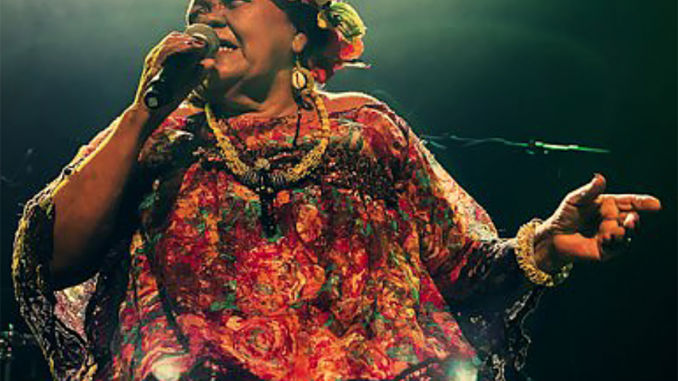 The Brazilian 'Queen of Carimba' is set to star at this weekend's Womadelaide.
By Chris Lambie.
Ever feel like life has passed you by? Your best years are behind you, dreams unfulfilled? Could you believe that life begins at…70? Consider (now octogenarian) singer song-writer Dona Onete's approach to retirement. After 25 years in the classroom (teaching Amazonian history and culture), her tour manager Geraldinho Magalhaes says, "She preferred to go out on the road making music rather than stay in a hammock waiting for the end of her days". She's been performing "since ever" but professionally just eight years. Her 2013 debut album Feitiço Caboclo quickly led to international tours, more recordings and YouTube fame.
I was among a gathering of international media in Borneo last year, when the Brazilian 'Queen Of Carimba' joined us at a small round table. Magalhaes acts as translator, but the essence of Onete's conversation is telegraphed by nuanced gestures and the twinkle in her eyes. Hands bejewelled, resplendent in hot pink and straw hat, she's like a cuddly favourite auntie. She took photos of traditional dancers at the previous night's festival launch party. "I feel very related to the culture; the same atmosphere, the same soul… everything," she says.
Born Ionete da Silveira Gama, the festival headliner created her own take on the  Brazilian-Caribbean music of her hometown of Belém do Pará at the mouth of the Amazon. Onete learned traditional sambas, quadrilles and boi bumba as a teenager. She listened to Brazilian bolero singers. A teacher and researcher, she helped establish traditional music and dance groups. In 2017, she received the Brazilian Ordem do Mérito Cultural. Onete says, "I was very inspired by composers and singers from the 50s and 60s, such as Angela Maria and Nelson Gonçalves. Also Waldemar Henrique, a popular classical composer from Pará." All members of Onete's touring band come from the same province as her. She insists on it. "Because there's an accent and a different way to play that's unique," she says. "It's a mix of Afro-Brazilian, Indian and Caribbean, also Portuguese and French colonial influences. Even the upcoming musicians today have this type of accent." Onete's guitarist and musical director, Pio Lobato is known as a leading proponent of guitarrada – Amazonian 'surf' guitar music.
Tweaking the traditional Carimbo recipe with flavours of Samba and Pagoda, Onete's lyrics honour the power of nature and her primary passions – sex and food. She giggles. "I prefer to say love; that is, sexuality aspects in good words. Not porn, but charming. I love to make poetry and sing this type of thing." She's like a pop star in Brazil. "Much more than an old and funny lady – more like a diva," she says proudly.  Some of her songs are used in primary schools. "Maybe they change one or two words because of the spicy [tone]or sensuality…" One example is a popular birthday party song, 'The Vulture and the White Lady Bird'. Speaking against racism in Brazil, it refers to a romance between "a black guy and a white lady".  In conversation, Onete's persona matches that seen on stage. She's curious, coquettish and lively. Her playful engagement hints at a deeper wisdom and warmth. Despite mobility difficulties, she caps off her late night concert by rising from a stately armchair to shimmy and sway to the rhythms accompanying her. "Audiences get crazy", Magalhaes suggests, "It's her sweet way to touch people."
Onete claims that spreading energy and joy across a big crowd inspires her natural sense of humour.  Along with a diet including guarana ("without all the sugar they add now") and a regional dish of acai and fish, she's 'always feeling good'. She'll share her culinary tips at WOMADelaide's Taste The World program. Back at the Borneo press conference, Magalhaes says the grinning Onete wants him to tell us, "She's very happy because of your smiles. She enjoys a lot to meet happy people. One of her new tunes says, "If you're not happy, we invent."
Dona Onete will be appearing at Womadelaide, March 8 – 11.