One of Australia's largest and most vibrant music and arts gatherings, the annual Woodford Folk Festival, returns for its 31st year this December 27 to January 1.  Prior to announcing their most diverse programme to date on October 15, Woodford is thrilled to unveil the poster for this year's festival.
Woodford Folk Festival's artist in residence, Gavin Ryan, has brought this year's theme, "How We Wonder" to life in a dynamic image. Characterised by Ryan's stunning attention to detail and vibrant colour choices, the poster is a cosmic explosion. Exploring the power of imagination, Woodford promises to take you on a journey of creativity, solitude and connection. Gravitating into the unknown and the undiscovered, the poster reveals the magic of Woodford.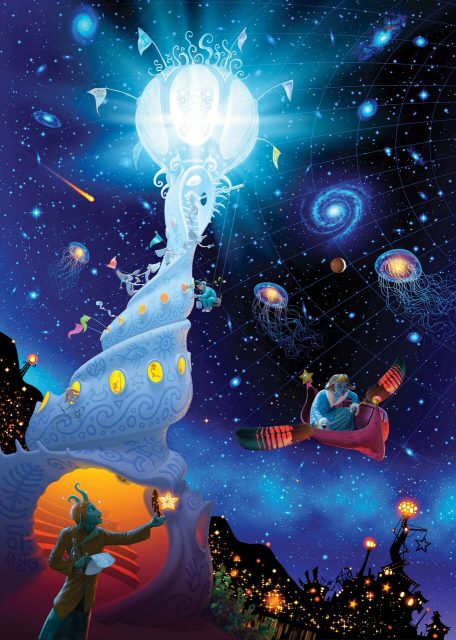 Organisers have also announced that this poster will be the first of a triptych that will conclude on the third year with three posters joined together revealing the conclusion of a story trilogy.
For those wanting a print, the full sized A1 poster can be purchased online at the festival's website ticketing suite. Selected outlets to purchase direct will be published on October 15th.
Woodford Folk Festival runs from the 27th December to the 1st January. An iconic event on Australia's festival calendar, the annual not-for-profit arts and music festival features 2,500 artists, musicians and presenters in 400 acts across 25 venues. Woodford caters to an estimated aggregate of 125,000 or more attendees every year, and showcases a variety of genres including music, dance, art, circus, comedy, theatre and visual arts.
The community spirit is high and festival-goers will experience cultural immersion, connection, celebration and quiet reflection; Woodford is where spirits are lifted and feet are placed firmly on the soil beneath.
Stay tuned for the announcement of the festival programme on October 15th.
Early bird tickets are now available at www.woodfordfolkfestival.com at 20% off.