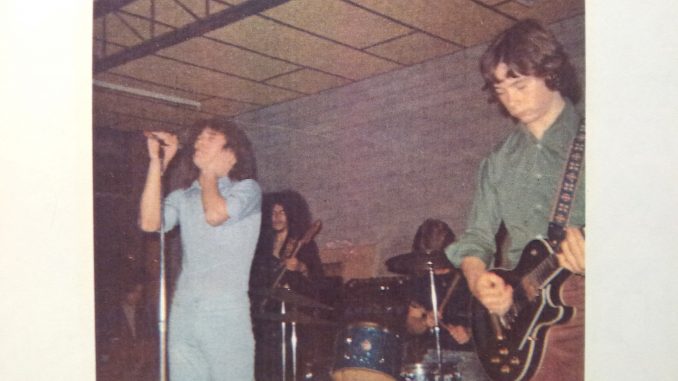 As Jimmy points out in his new autobiography, Working Class Boy, the accompanying photo is the only known image of the short-lived cover band he was in, aged 16, before getting the call to join what became Cold Chisel. The band was called Tarkus, which was a bit weird in itself since there was no keyboards player and we weren't playing anything by Emerson, Lake & Palmer, from whose album titled thus we'd taken the name. I suppose I should introduce myself. I'm the guy in back of Jim, resplendent as he is in his powder blue shirt, me in black denim jacket with the hair and a goatee, all I could manage to grow at the time and for many years to come – Michael Smith, bass player. The photo was probably taken by my then girlfriend Lanie and it's been in a draw for years, dug out when I got a call from Jim wondering about those fleeting months together in Tarkus. I guess that's how things go. Lanie and I parted in less than ideal circumstances a couple of years later, sadly something of an unhappy pattern at various times in my emotional life but that's another story. Regardless, it's the only proof, other our fading memories, that Tarkus existed.
I got the gig courtesy Jim's big brother John Swan, who I'd first seen in action, both of us 12 years old, about a week into starting at Elizabeth West Primary School (now Davoren Park). I'd only been in Australia six weeks or so from London – well Dagenham really, where the family had moved in 1961 from the still bomb-site-riddled slum part of Islington where I was born – missed The Beatles' only Australian tour by a month! Anyway, it's a Friday morning and we've all been herded out onto the school's vast quadrangle, the hot September sun already beating down heavily, and the Headmaster is about to do his bit. Drumming us all out in lines is a kid in a kilt with a snare drum – John Swan aka Swanee.
We never became particularly close friends – it was the last term of Year 7 and the following year I went to Elizabeth High School while Swanee went to Elizabeth Technical High School – but I guess we remained distantly aware of each other. In Fourth Year I remember sitting next to – when he bothered turning up – a kid named Ronnie Peers. Turns out he was a guitarist and his absences were mostly down to gigging round the place with a blues band called Hard Time Killing Floor, in which Swanee was playing drums. Ron later found fame in a band called Stylus playing blue-eyed soul.
Either way, that fourth year of high school I discovered guitar. I can't remember who gave it to me but that dodgy little acoustic guitar became my constant companion, as is often the way with young men who struggle to articulate in normal human interactions. It certainly contributed to my falling from being quite a good student to, well, just scraping into university. By the end of high school I'd managed to become singer and guitarist in a typically barely adequate cover band called Handle With Care with a couple of school friends.
As a guitarist with no real idea what he was doing, no one to learn from but with an ear good enough to get the basics off the records we were covering, the next couple of years saw my prowess decline dramatically enough for university and bad poetry to look like the only realistic career alternatives until, at a Christmas party at Lanie's parents' place in December 1971, I met a real guitarist and singer, John Pryer, who was jamming away in a corner of the garage with a young drummer fresh off the plane from Liverpool named Steve Prestwich. John had an imitation Hofner bass there and somehow, in a moment of obvious unfounded hubris, I picked it up and we three jammed away. Suddenly I'd found my musical voice. As Ice, we played our first gig at the YMCA in Elizabeth, inexplicably dubbed Black Coffin for the night, in April the following year. Mostly covers with a couple of originals by John, over the next year we played about 20 gigs before it fell apart.
Anyway, I was still studying at Adelaide Uni and one evening in July 1973, I think, I'm checking out Blackfeather, who were playing in the Refectory, still touring on the back of their Boppin' The Blues hit single, and I bump into Swanee, who asks me if I'm interested in playing in his little brother's band, and of course I am. I remember going round to the family home in the next suburb up, Elizabeth Fields, and meeting the family properly and discovering that Swanee is not just a drummer but also an incredible pianist! There were rehearsals – God knows how I used to get to them or anywhere for that matter for years afterwards, since I didn't learn to drive until I was 33 but somehow I did it, carting an old Lenard bass speaker box, Marshall amp head and a Fender bass – and I remember we were playing some Free and Cream songs, and Uriah Heep's Walking In Your Shadow, which guitarist Mark Lacey must have taught me since I didn't hear the original until years later. Then we played that same YMCA in Elizabeth, which is where we are in that photo. Damned if I can remember the drummer's name – Stewart something perhaps? Just four young guys intent on making a racket together.
Anyway, there were probably only four or five gigs we played together all up, but the only other shows I can remember clearly were at the Institute of Technology Refectory, which I wangled for us through an old school friend who was studying there – we earned all of $12 and a bottle of Scotch between us on the night, and we all agreed that Jim could take the Scotch! – and the last show we played, in Murray Bridge, in some sort of big tent affair from memory. And that was it. About four months.
The next time I saw Jim was late November 1973 when Lanie and two of her girlfriends, who were all Scorpio girls, decided to have a combined birthday party/dance at Spruance Road Hall just opposite where Steve's family used to live in Elizabeth East and booked Jim's new band to play. That was the first actual gig that Cold Chisel played, and that night, John Pryer and I joined Steve for a three-song "reunion" of sorts during one of the breaks late in the evening, the last time I got to play bass to Steve's drums.
Funny thing, when I read Toby Creswell's 1998 biography of Jim, Too Much Ain't Enough, I discovered I'd replaced a guy named Stuart Kerrison as bass player in Tarkus, Jim having accepted the fact that he couldn't sing and play at the same time. Two years after Tarkus I was in a band called Roadwork playing a lot of Bowie covers fronted by, wouldn't you know it, Stuart Kerrison. Towards the end of 1975, he and keyboards player Chris Harriott decided to revamp the band, renamed it Scandal, and by the end of 1976 we'd signed with Mushroom Records – three years, 550 gigs, tours supporting 10CC and ELO, four singles, one album, Countdown, the lot.  End of '78 I wash up in Sydney, a has been and aspiring writer, looking out for the next gig. The following year, Cold Chisel signed with WEA, and as a freelance music journalist, I found myself, the "bass player scholar", interviewing and writing about Jimmy Barnes and Steve Prestwich. Funny the way things work out.
POSTSCRIPT: Guitarist Mark Lacey and I worked together in another band, Slim Pickings, after Tarkus and before Roadwork. He never left Adelaide. I discovered years later that through the rest of the decade and beyond, Mark suffered from bouts of severe depression, though he continued to play and ever more brilliantly. Perhaps he stopped taking his medication but it seems one day he decided to take a walk, straight into the oncoming traffic.
By Michael Smith
© Michael Smith, 29 September 2016