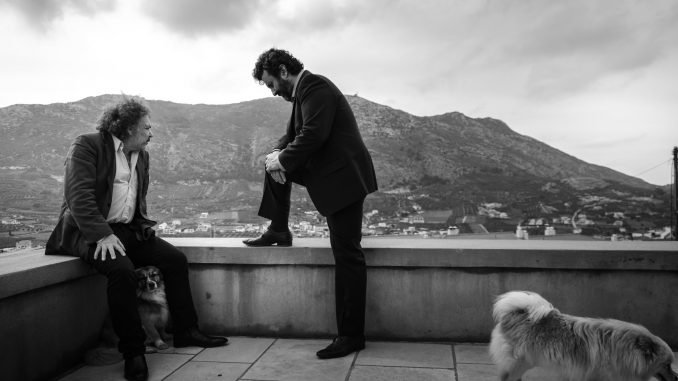 Xylouris White is a wondrously odd beast. A duo birthed in Melbourne, comprised of a Cretan lute devotee, and one of the most joyously unorthodox drummers in modern music, their immersive, deeply resonant records – a deep, guttural tribal Hellenic folk-blues ramble – are produced by a punk legend to boot. Lute player George Xylouris knew drummer Jim White, initially, via family connections.
Later, when one of Jim's many bands ­– The Dirty Three­ – became ascendant in Melbourne in the mid '90s, George was enjoying critical success with The Xylouris Ensemble, after moving back to Melbourne for a time. Occasionally, George would sit in with The Dirty Three; and those occasional evenings remain etched in Melbourne's musical myth, for some.
Fast forward to 2019, and the duo have just released The Sisypheans, album four of beatific Hellenic instrumentals, under-pinned by White's truly expressive and individuated drumming and Xylouris' clay-pipe growl of a voice. Of course, he sings in his native Greek – the words are a mystery to non-Greek speakers; it's a mood; impression, and atmosphere that under-pins Xylouris White. But Jim doesn't see any issue.
"I'm the listener, as well as the player. I'm playing music, trying to do what I think." he tells Rhythms from London "I don't speak Greek: I have an idea about the songs, but often that idea that I might have about the songs develops over time. We play to sorts of audiences rock is an English language thing mostly, our audience is often Australian, Greek, Japanese; whatever. Mood is more important: the song is always different".
The song may seem different, but in the words of a certain famous UK blues-rock act, the song does indeed remain the same. The driving idea behind The Sisypheans is beauty through repetition, joy through simplicity. The legend tells us of a cruel Greek King named Sisyphus was punished by the Greek God Zeus for killing travellers, who accidentally trespassed on his lands. The myth says he would push a large rock up a steep hill for all eternity, only to have it roll back down at the end of each day.
When the Xylouris White were finishing their Black Peak record, the story seemed to be appearing all the time in unconnected ways. Recording at their friend Will Oldham's house, a cross-sitch design by Oldham's wife depicted Sisyphus pushing the rock up the hill. Later, the duo were on tour, eating out one night, discussing the myth when a waitress asked if they knew an essay by late French philosopher Albert Camus on Sisyphus. They didn't: but, they soon looked it up. "This essay by Camus, The Myth of Sisyphus, was like an anti-suicide note. He would see the seasons change, see the insects, he didn't see it as a chore, he enjoyed it. If you play the same song every night it's got to be new every night. We must think of Sisyphus as happy."
Their fourth record is produced by longtime producer/collaborator Guy Piccioto widely known for his era-defining contribution to Washington DC punk acts Rites of Spring and Fugazi.
Piccioto saw the first Xylouris White show, and met the band through the filmmaker Jem Cohen, who made the film Instrument, about Fugazi. He's done all the Xylouris White records for a reason. "He's got a great attitude" says White "He's a great arranger, great manner, great ear for rhythm, hooks, he's an enthusiast, he's like a member of the band."
Like their music, and sense of story, Piccioto retains a spirit unique to Xylouris White. It's somewhat akin to the quote by French artist Pierre Soulages on The Sisypheans album cover: "It's what I do, that teaches me what I'm looking for".
The Sisypheans, by Xylouris White is available now.
Xylouris White play March 4 Hamer Hall in Melbourne, March 5 at the State Theatre in Sydney and March 6 at The Tivoli with Bill Callahan.